I have some news that I'm (Mandi) REALLY excited about – and very excited to share with you!  I have the opportunity of welcoming Rachael Walkup as a long-term contributor to Cumming Local!!  Since launching Cumming Local in November of 2010, most of the articles you've read have been written by myself – which is a great time to pause and say "thank you" for putting up with me!
We've had some awesome guest post authors over the years, Rachael being one of them, but beginning this week you'll start seeing a lot more articles with her name on them.  Not only will she be bringing us fresh content and ideas, but she'll be working on our weekly & weekend round-ups too! 
All of this means we'll be able to bring you even more and better things from CummingLocal.com.  Rachael has already brought lots of great ideas to the table and I'm looking forward to what's ahead!

Meet Rachael …
I'd love to introduce to you, Rachael Walkup. Rachael will be a long-term contributor to Cumming Local. I think that the easiest way to introduce someone is through an interview.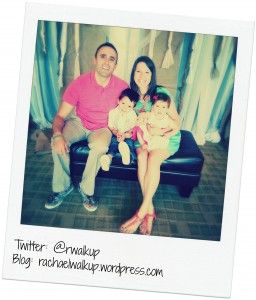 Give me a quick bio of yourself.
Well, my name is Rachael and I have lived in Forsyth County since 2006. My husband and I built a house here 7 years ago. We have two kids – a one year old girl and an almost four year old boy. I am a full-time stay at home mom since June of this past summer. I'm very grateful to be home with the kiddos.
What do you like to do in your free time?
Free time. What's that? HA! Just kidding! I'll give you my answer for how I like to selfishly spend my free time. If I am alone – I like to relax and listen to music. I also love to write and do some crafting. Now lets be honest, I don't get much free time. So in my time with others – I do love being with my family and friends.
What's a book you've read recently?
I just finished reading "No More Perfect Moms" by Jill Savage. It was an awesome book and I learned a ton. I highly recommend it.
Favorite quote?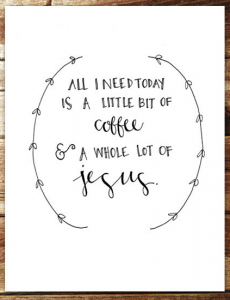 What is something you have overcome recently?
Now we are getting deep! But I do have something. My husband and I spent a weekend at Winshape Retreat this summer. We did the Adventure Retreat. It was really fun! But one of the things we had do to was climb this pole and jump off while trying to grab a swing. It was difficult but I did it! And I did a zipline. Overall, I faced my fear of heights!  Below is a picture…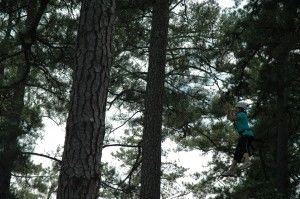 Anything else you would like to share?
Hmm…the only thing else I can think of sharing is my love for missions. I have been to Cambodia twice in the last few years and my part of my heart is still there. I love those kids! Ultimately, I would love to be a full time missionary someday.

You can also follow Rachael on Twitter or her blog. Links are below –
Twitter – @rwalkup
Blog – Confessions of a Mom