Update:  A "Dine to Donate" event has been set up at Good Grub Subs with a portion of proceeds going directly to the Walkup Family.  Click here for more information.
For the Walkup Family
One thing I have always absolutely loved about this little world called Cumming Local, is you – the readers.  Y'all are always so kind, so helpful in your recommendations for other readers, your encouragement to me personally, and your support of our sponsors.  I think it's a true glimpse of this community we live in – one that's kind & good.  The last few days have proven that once again.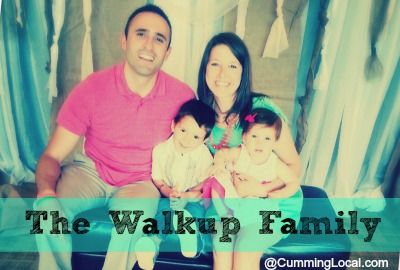 Word has spread quickly, but in case you haven't heard  — this past Saturday our writer, Rachael Walkup, and her family's home was destroyed by a fire.  We're so thankful that Rachael, her husband (Greg), two small children and the family dog all made it out safely!!
Greg teaches in Forsyth County (previously at Vickery Creek Elementary and now at Kelly Mill Elementary).  In fact, if you've been following us a while you may remember that Cumming Local worked with his third grade class two years ago.  His students wrote for us!   Rachael is a stay at home/ work at home mom and stays very busy for Cumming Local and other projects.  In fact, if go to any Fall Festivals or events this year after hearing about it on our site it's because Rachael wrote about it!  She has been a blessing to me this Fall!
The community has rallied around this family and without putting words in their mouth, I know they feel the love!
I promised I would share information once a fund was set up in their name.  So many of you have reached out asking how you can help – I really am touched by all the messages I received, because I know those are coming from you (our readers).  If you desire to contribute to it, please see information and instructions to donate through Helping Hands below.  At this time all other immediate needs have been met through gift card, material & clothing donations.  Previous updates have indicated needs for clothing and gift cards, but for now the fund will be most helpful as their family begins this next phase.
How to Donate to the Fund:
Step 1:  To Donate click here to visit Helping Hands project donation page.
Step 2:  For "Project Category" select "Financial Hardship Projects"
Step 3:  For "Project Name" select "Walkup, Greg & Rachael"
Thank you again for all of your concerns and messages.  Rachael will be taking as much time as she needs to be with her family and young children … and in the mean time, I'm trying to keep up with the awesome pace she gave us!!  ~ Mandi