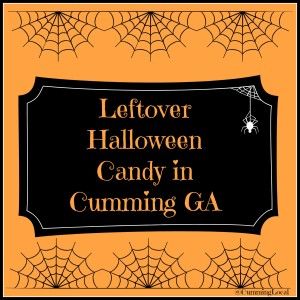 Leftover Halloween Candy in Cumming GA
If you are like us then you have some leftover Halloween candy today. And I'm betting your kids have way more candy than they "need" to have. So – I was rolling around ideas of what to do with all this extra candy. I thought I'd share them with you! If you have other ideas of what to do with the leftover Halloween candy, please share with us. We would love to hear from you.
Bake it: You could make a delicious candy dessert. Here are some recipes that sounded pretty good to me – click here.
Freeze it: Freeze some bags of yummy candy mix-ins for milkshakes or ice cream sundaes at a later date.
Turn it into a Science Project: This very creative mom used the Halloween candy for science projects. Find the instructions by clicking here.
Give to Your Kid's School: Some elementary schools are collecting leftover Halloween candy to give to the troops. You can visit their PTA Facebook pages for more information to find out if your school is participating!
Halloween Candy Buy Back: The following dental offices are collecting candy and paying you per pound – Family Cosmetic & Dental Care (Stay tuned as more options will be added as I find more)
Use it for the Holidays: Christmas is coming! You could use the candy for an advent calendar, Piñata, or decorating a gingerbread house.
Blend it: Make a yummy ice cream treat for your family by mixing ice cream and the candy of their choice.
Give to Operation Gratitude: Click here for more information about this great operation. For details on the Halloween Candy for Heroes, click here. You can enter your zip code to find a location collecting near you.
Take it to Work: Grab a bag and take some candy to your co-workers. It can be in the break room for all to enjoy!
Treats for Troops: Bryan Family Dentistry is collecting unwanted and wrapped candy until November 21st to send to the troops. You can drop off during office hours at 403 East Maple St, Cumming, 30040. Click here for more details. 
What ideas do you have for leftover Halloween candy?