High School Football in Forsyth County {2018}
We love taking our kids to High School Football games. They really love it!  There is just something about the Friday night lights, popcorn, and football that makes for a fun family night out. If you are looking for plans on a Friday night, this is a great way to spend it. Especially as the temperatures get cooler.
All the schools have their schedules up, so i've linked to them to make things easier. The ticket prices are anywhere from $5 to $10 depending on the High School. And you can purchase tickets when you arrive. They also have a concession stand with different types of food and drinks.
Any of these links will take you directly to the High School Football schedules:
Forsyth Central Bulldogs
Lambert Longhorns
North Forsyth Raiders
South Forsyth War Eagles 
West Forsyth Wolverines
Denmark Danes
Pinecrest Academy Paladin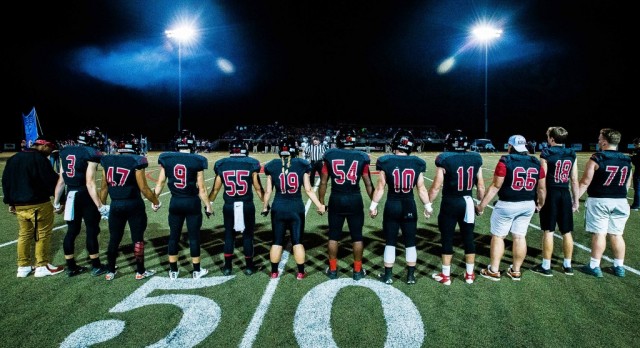 Tips When Attending a High School Football Game:
Bring cash for the tickets & the concession stand.
Wear school colors for the team you are cheering for!
Make sure you are sitting on the correct side. I know that seems like silly advice but believe me, it comes in handy.
Grab some snacks before it's half-time. That's when most people will head to the concession stand.
Be sure to watch the halftime show. This was my daughters favorite part of the game because she loves music so much.
Bring something comfortable to sit on. Otherwise, you will be sitting on hard concrete the whole time.
You will want to make sure you get there before the game starts to get a good seat.
So now the big question … who are you cheering for?