Dream Dinners:  Review of a true "dream"
Do you have that dreaded 5 o'clock hour in your house?  Surely it isn't just me!   You know that hour when everyone's hungry, everyone's a little cranky, and everyone needs your attention all at the exact same time.  You're trying your hardest to chop vegetables, boil water, and brown some meat all while being tugged at your shirt and hearing "MOM" from across the house!
Surely, it isn't just me!!
I am so happy to report that dreaded hour has been SO much easier the last week.
At my house, I make chicken for dinner not "Creamy Chicken Risotto".  We have Mexican Night which means tacos, not Arroz con Pollo!  And we'll grill Salmon, but I've never made "Parmesan Pesto Salmon with Cheese Crisps".  I'm not a good cook (seriously – I can mess up a boiled egg) and while I LOVE looking through food pictures on Pinterest, by the time I read the recipe and see I don't have half the spices and herbs needed I'll close the computer and stick with my tacos!
So, when Dream Dinners of Cumming invited me to try their menu and create some meals I was all on board!   With the Dream Dinners service, you select your recipes online and then show up to prepare your meals.  All the shopping and much of the prep work is already done.  You assemble the meals and leave with food to stock your freezer!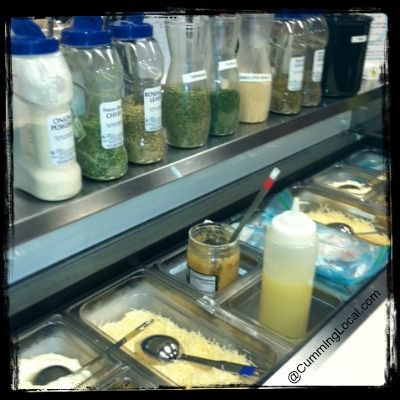 There were no messes to clean, no dishes to wash, no food to dice, chop or slice!   All that work was done by the Dream Dinners team – truly … a dream!!
They say with Dream Dinners you'll save both time & money. 
Here's my personal take:
Will Dream Dinners save  you time?  I went to Dream Dinners of Cumming on a Saturday morning at 9:30am.  I had 36 servings to make which worked out to 9 different meals.  When I arrived, Deanna (co-owner) gave me a clipboard with all my pre-chosen meals, ziplock bags and instruction cards.  After washing my hands & hearing a brief set of instructions I was free to start assembling!  In about an hour and a half I was checking out.  90 minutes for 9 meals!  And I was chatting with my sister and another friend in there at the same time.  So I'm sure I could cut that time if I wanted to.  So, yes – Dream Dinners saved me LOTS of time!
Will Dream Dinners save you money?  Prices will vary depending on the meals you select, but when I crunched the numbers all meals I prepared for my family were less than $5 per serving.  And a lot of the meals were under $4 per serving.  Plus, I wasn't at the grocery store throwing unnecessary things in my cart.  I didn't have to stock up on a bunch of spices and herbs that will go bad before I need them again and I didn't have waste!  So, yes – Dream Dinners will definitely save me money!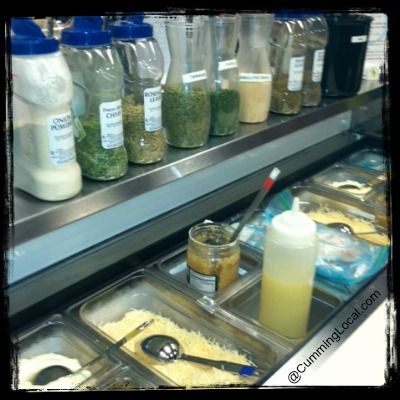 Extra benefits from having a freezer stocked of dinners …
The 5 o'clock hour can be peaceful again:  The prep work is minimal for the majority of the meals I assembled.  A few meals have required me warming them up on the stove top, but several have just been baked in the oven.  Either way, taking out the chopping, measuring and mixing has been great!
There are less dishes to clean:  Again, since you're not measuring and mixing there are less bowls, measuring cups, spoons and mixers to clean up.  And some meals are even assembled in aluminum trays so clean up involves throwing them in the garbage!
We've broadened our horizons:   As I said earlier I am pretty basic when it comes to cooking, so we've been eating a lot more flavorful meals since my visit to Dream Dinners!
Portion Control:  As most of you know, we're a family of four but my children are still young – 7 and 4.  So the 3-serving meals have been great for us.  My husband & I each get one serving and the kids will split one.  Sometimes the portions are just right and sometimes we've even had some left overs.  But if you're dieting or trying to watch how much you eat, this is great for portion control.  And if you're trying to watch what you eat, they have lots of "Heart Healthy" options to choose from on their Menu.
Are you ready to give Dream Dinners a Try?
Connect with Dream dinners & you'll find several options including an Introductory offer to get started!
Dream Dinners of Cumming
539 Lake Center Pkwy
Cumming, GA 30040
Phone:  770.887.4141
Like Dream Dinners of Cumming on Facebook
Visit Dream Dinners of Cumming Online
Disclosure:  This is a sponsored post, however all opinions expressed are my own.