An Interview with A Prince 
Last week I had the privilege of talking with Jason Pacinci. He is currently on tour with Disney On Ice presents Follow Your Heart. In this new Disney production, Jason is playing Belle's prince. Below are some of the questions I asked him when we talked:
#1 – What is your Belle's Prince name?
"I'm asked this all the time! His real name is Prince Adam"
#2 – How long have you been part of this company?
"This is my first tour with Disney on Ice. Before being part of Disney on Ice, I was a competitive ice skater. But I've always had an interest in being a performer for Disney On Ice. I am thrilled to be part of this production!" 
#3 – What do you like most of being in this show?
"My favorite segment of the show would have to be the Beauty and the Beast scene. But in general as a performer, I love being in a new city and new crowd each week. It really makes being part of this company an adventure. Also, it's very rewarding to get such great reactions from the crowd."
#4 – If you could tell my readers one thing, what would it be?
"Come see this show! Disney On Ice present Follow Your Heart is a spectacular show full of tales of self-discovery, courage & adventure. There are sixty Disney characters LIVE on the ice. Truly this show has something for everyone in your family. I encourage you to come see the show."
More Information on Disney on Ice presents Follow Your Heart: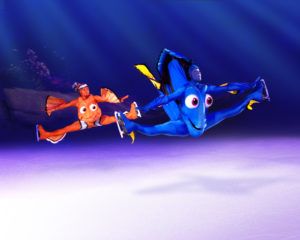 Follow Your Heart allows families to join in on the deep-sea adventure as Dory comes off the screen and onto the ice. With help from Nemo, Marlin and new pal Hank, Dory embarks on a life-changing excursion. The engaging atmosphere of Disney On Ice allows Dory's humor to take center stage deepening the audience's existing connection to their favorite forgetful fish. The production will dive into the extraordinary underwater world from Finding Dory, as a vibrant rainbow of digital projection will transform the ice floor into a colorful aquatic paradise.
Disney•Pixar's Inside Out makes its Disney On Ice debut as Riley's Emotions –Joy, Sadness, Anger, Fear and Disgust– reel the audience into the action to help her find the confidence to win the hockey championship and to experience the emotional rollercoaster of growing up alongside Riley. Families are provided the opportunity to easily discuss the feelings children face every day through this live interpretation of Inside Out.
From Snow White and the Seven Dwarfs and Fantasia to Toy Story and Frozen, Disney On Ice presents Follow Your Heart opens up the thrilling world of live entertainment by immersing families in an array of treasured stories. The athleticism of the performers shines through as they embody Rapunzel, Ariel, Tiana and the rest of the Disney Princesses, inspiring children around the world to dream big.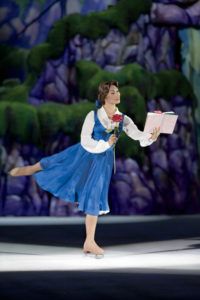 There's something for everyone in a show that features 60 characters. The wintery world of Arendelle sets the stage for Olaf and Kristoff as they help reunite royal sisters Anna and Elsa and learn love is the most powerful magic of all. Audiences will celebrate friendship with Buzz Lightyear, Woody, Jessie and more pals from Disney•Pixar's Toy Story. With Mickey Mouse and Minnie Mouse leading the way, this new Disney On Ice production will excite and amaze fans of all ages.
Disney On Ice presents Follow Your Heart will be at Philips Arena from October 5th to 9th. Click here to purchase tickets
**Get discounted tickets on Goldstar, by clicking here.**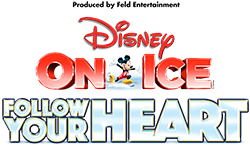 Connect with Disney on Ice online:

 
Facebook | Twitter | Instagram | YouTube
Use the hashtags #DisneyOnIce #FollowYourHeart 
{Belle and Prince Adam Photo Source: Pinterest}
{Dory and Belle Photo Source: Feld Entertainment}