Day Out With Thomas: Parent Review
Cumming Local is so grateful for contributing writers! This guest blog post is from one of Rachael's very best friends, Ashley. Her family recently took a trip to Chattanooga for the "Day Out with Thomas" experience. Ashley's boys are 9, 4 1/2, and 19 months old. This exhibit is open for 2 more weeks. It's not too far of a drive from Cumming GA & Forsyth County. Go check it out while you can!
We purchased our tickets on the Tuesday before we attended that Saturday. They sell the tickets on a timed schedule and then within each time by the train car. There is no perk for being on the different cars. We were on train four and it was the same thing as train one. There are a certain number of seats per car and time slot so when we purchased our tickets the only time slots available were 5:30 and 6:30 in the evening. They start as early as 9:30 and run on the hour with 6:30 being the last train.
It is about a two hour drive from our home in Cumming GA to Chattanooga. The drive was really not bad at all and of course we watched Thomas movies all the way there and back to enhance the experience for our kids.
They recommend you arrive an hour before your train ride and you get in line to board 20 minutes before. We purchased 5:30 tickets and arrived at 4:30. It was plenty of time to see most of what we wanted. When you arrive they give each child a piece of paper that they are to get three stamps on when they visit different areas of the train yard. The problem is that some of these are timed experiences.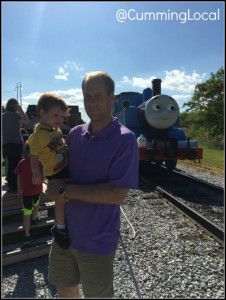 The first 'stamped' activity is at the 'Imagination Station' tent. This is where my boys got their choice of train tattoo. There were also train displays, but there were not nearly enough trains for people to play with so we got our tattoos and stamp on our paper and were on our way.
The second 'stamped' activity was seeing Sir Topham Hatt. Because it was 4:45 he wasn't there and no one was there to stamp our paper. To see Sir Topham Hatt: 9:15 to 6:15 on the hour. He is only there for a short while to take a photo with.
The third 'stamped' activity was hearing a story or watching a video. It is upstairs. We were a couple minutes late and she had already started reading (Got there about 4:50). The boys weren't that interested in the story, but there was a sweet lady at the back that stamped our papers. NOTE: there are bathrooms in this room. To see the Thomas Video: 9:15 to 5:15 on the hour. It is just a short 10-15 minute video. To hear a Thomas story read aloud: 9:45 to 5:45 on the hour. Think librarian story time reading a couple Thomas books that takes about 10-15 minutes.
After we left the storytime we headed to the bouncy, putt-putt, and petting zoo. The bouncy is only for 5 and under which was a bummer. My 9 year old couldn't do it and my 4 year old didn't want to do it without big brother so that was an unfortunate bust. On to the petting zoo. My kids always get a kick out of these. My 19-month old loved petting all the goats.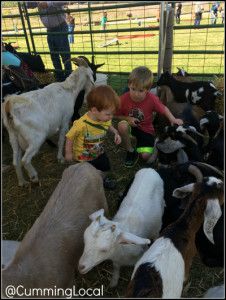 A lucky-for-us now tip-for-you: As we were at the petting zoo we heard Thomas' whistle (all of us Thomas the Train lovers or parent of lovers know this sound well). So we ran over to the track and got to watch Thomas come in. Then they had a platform that you could get your picture made with Thomas behind you. It was 4:50 and we were first in line for the pictures (way before the entire train deboarded to get their picture made). So my tip is: I would head over to the jumpy/petting zoo area about 10 minutes before the hour.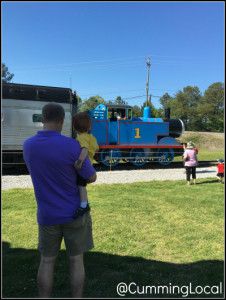 They tell you to get to the train to stand in line about 20 minutes before the ride. You stand in line by your train car number. As I mentioned we were train number four. The order you are in line is the order you will load the train which means the order you get to pick your seats. Since we were needing 4 seats we wanted to make sure we were able to sit with each other. No food or drinks are allowed on the trains (so make sure not to buy your 'carnival' snacks right before your train time because they won't allow you to bring it on). There are also no bathrooms on the train so take those potty breaks with plenty of time before to get in line. (We did have my youngest sippy cup and bag of fruit loops on the train that he did snack on). The train left at 5:35 and we were back at 6:00 – so it's about a 25 minute ride. Another tip for you: Sit on the side of the train you loaded from and sit as close to that door as possible. The view out that side of the train is way more interesting (stalled train cars, houses, bridges, etc.). The other side is woods the whole way. Also, sitting close to the loading door means you are the first ones off. The train is air conditioned which is a nice reprieve. A conductor walks through the car and hands out a blank, black and white, certificate. We threw these away, but some kids might think they are special. They also had a photographer going around the car taking pictures. (more on how to order pictures later).


After the train ride is when we decided to let the boys get their snacks. There are refreshments like cotton candy, ices, hot dogs, and other carnival-type food.  We then decided to get one more picture with Thomas. This was at the front of the Thomas (so directly face-on). I read on the sign that you could give them your camera as long as it was ready to go and they would use your personal device. So we waited in line to get this picture (to myself I was thinking it would save me from having to purchase the other one that I tipped you on). Unfortunately, when we got up there for the picture she said we are allowed to use our own cameras, but she could not take them. I needed to have someone else take our picture. So my tip: Coordinate with another family (even if it is a stranger) to hop out of line to take your picture and then you can return the favor.
By the time we were done with the picture we realized Sir Topham Hatt was back out (it was 6:20) so we went over there, but were in no moods to stand in another line. We went around to the exit, let the boys see him and got our third and final stamp.
We headed to the merchandise store (where you turn in your paper for your prize). The prize was disappointing to the boys, it was a Thomas clapper. Exactly what parents want to hear all the way home, Ha! My four-year old asked why it wasn't a train. I understand why it wasn't a train, but something more useful would have been nice. There is a great selection of Thomas the Train trains, sets, cups, towels, shirts, and anything else you can think of in the merchandise store. My tip: there are four very nice Thomas the Train tables with a good number of trains at the back of the merchandise store that my boys were able to play with easily. So if you want a break in the shade (but are prepared for the tears when they have to walk away) go play on these train tables.

The last thing I would say is that our crowd was not big at all. We really didn't have to wait for anything. I asked a staff member when we left if this was typical crowd size or if there were busier time during the day. She said the first two and last two train rides of the day were the least crowded, but the times in between were extremely 'crazy and crowded'. Those were her words. So initially, I was a little worried and concerned having our experience later in the day, but the weather was beautiful and the crowd was lite and I think it worked out perfectly.
Would I recommend the Day Out With Thomas experience? Absolutely! If you have a Thomas the Train lovin' child that lives in your home the expression on their face and absolute joy is worth every penny. Yes there were some disappointments along the way, but overall it was a wonderful family outing!
FYI: This is the same train ride you take if you have ever done the Polar Express with the Tennessee Valley Railroad.


P.S. I got a lot of compliments on my shirt (My shirt says "Outnumbered #boymom) while I was there. I was able to secure a 60% discount code just for CummingLocal readers if you are interested in BoyMom, GirlMom, or even 'Best of Both World' shirts, hats, and more. Just go to: boymomdesigns.com and use the promo code: 3l (that is a lower-case L)
Ticket Information:
Tickets are $21 per person that is age 2 or older. Under 2 is free (but do not get your own seat). There is a $4 fee per ticket as well. Everything else I have mentioned is included with the train ticket – the only other thing you purchase when you are there are snacks, drinks, and any merchandise you choose to buy.
The pictures they take are through JED Photography. You can stop at the tent to view the pictures (they give you these little tickets with passwords on them that they scan). There is a little discount if you order at the event and they print them on the spot. Our last pictures had not been uploaded yet so we didn't want to wait. You can order everything up to 14 days after online for the same price (and you can text them for a 10% off coupon).
To see the nation-wide tour schedule CLICK HERE. We attended the Chattanooga, TN location (CLICK HERE to go straight to purchase tickets) which is open 4/30, 5/1, & 5/7. My review would still be applicable to any location since it's the same thing that travels to all locations.