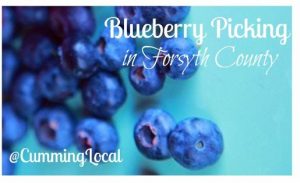 UPDATE (August 1, 2013):  As the season comes to a close, be sure to check the Blueberry Garden Website for any updates or changes in hours, availability, etc.
UPDATE:  The Blueberry Garden Website has been updated to announce a July 13th grand opening day.
Blueberry Picking in Forsyth County
Last year, a new Blueberry Garden opened up for blueberry picking in Forsyth County – Blueberry Garden's U-Pick Blueberry Farm & Nursery.
We shared it with our readers last year and while I, personally, was never able to check it out I did hear from several of you that made it & enjoyed it very much.  One heads up – the garden is located at a residence.  So it might feel like you're going to a friend's house (or a strangers) to pick.  That was probably the most common "surprise" factor I heard back.  If you went strawberry picking at Warbington Farms this season or in the past, then you may have seen it then – it's right next door!
We've been following the Blueberry Garden website for a while now & orginally the season was going to open for picking in late June.  However, due to the season, the date has been pushed back and as of 6/21/13 no specific date is set, although it does indicate "we thinking picking will start the first of July".  We'll keep an eye out for things and update you as soon as we hear more!
The website also advertises the following (once open):
Open Friday & Saturday from 6am to 8pm
Open by Appointment through the week
Pre-Pick available w/ 2 hours notice for each gallon.
No Pesticides or Herbicides used – using organic practices to grow the best blueberries possible.
Cash or Personal Check only.  No credit/ debit cards.
Prices – $15 for U-Pick Gallon & $20 for Pre-Picked Galloon (Note:  Bring your own container to carry berries home).
The U-Pick Farm & Nursery is located at 5455 Crow Road (right next to Warbington Farms) in Cumming (30041).
NOTE:  As with any u-pick farm, be sure to call or check ahead to confirm fruit is available for picking!!
Contact Information:
5445 Crow Road
Cumming, Georgia 30041
Phone:   770-889-2519
Visit Online

Photo Source – D Sharon Pruitt