Blue Ridge GA: Top Places To Stay & Things To Do
Blue Ridge GA is located in the North Georgia Mountains just about an hour and a half from Forsyth County. Did you know that more than 40 percent of the Blue Ridge GA is in the Chattahoochee National Forest? In Blue Ridge GA you will experience gorgeous mountain beauty, exhilarating hikes, whitewater rafting and much more. You may even want to add a ride on the Blue Ridge Scenic Railway to your to-do list. If you have never been to Blue Ridge GA  or you haven't been in a while, this article will come in handy. We have laid out all the best places to stay and the best things to do.
Whatever you do, we hope you enjoy your visit to Blue Ridge GA! 
Places To Stay


Using Vacasa to book your cabin is the best route to go. You can find cabins from $89 to $620 a night. You just have to browse the available cabins that meet your budget and size needs. We have a few cabins to highlight that we think are just picture perfect!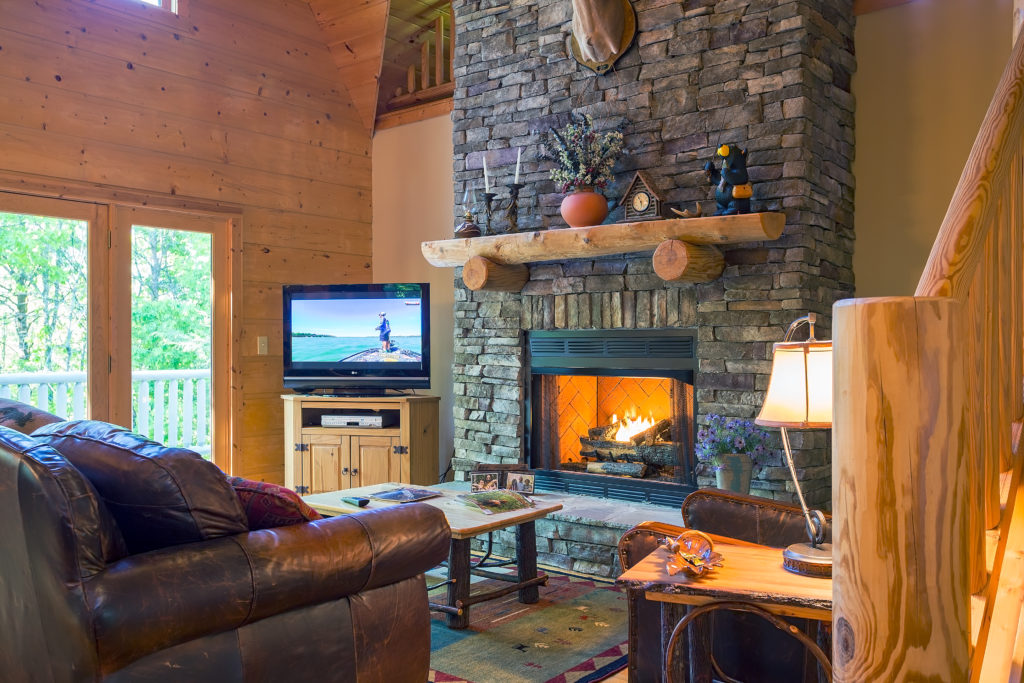 The Sweet Spot
There's no better way to explore the beauty of Georgia's Blue Ridge Mountains than from the comfort of this beautifully decorated vacation rental. Enjoy a serene wooded setting, tranquil water views, a beautiful back porch with a fireplace, and a full game room, plus a peaceful location that's only a short drive from the town of Blue Ridge proper. Everyone will enjoy the best of both worlds with this home. Fish for bass and bream in the semi-private pond (catch and release only), stretch your legs with a hike or explore the woods on horseback. You're also close to McCaysville Park on River Street, the Blue Ridge Scenic Railway, and the Georgia-Tennessee state line, providing you with plentiful options for day trips. Start each morning out on the porch swing, where you can savor a cup of coffee and listen to the gentle sounds of wildlife. When you're not out exploring, challenge your traveling companions to a game of Ping-Pong or foosball in the game room, curl up on the sofa with a good book, or relax by the outdoor fireplace on the back porch. You'll also enjoy free WiFi, a fully equipped kitchen, and a large back deck with a gas grill and beautiful views of the pond below.
Find a date by clicking here or calling 706-258-3286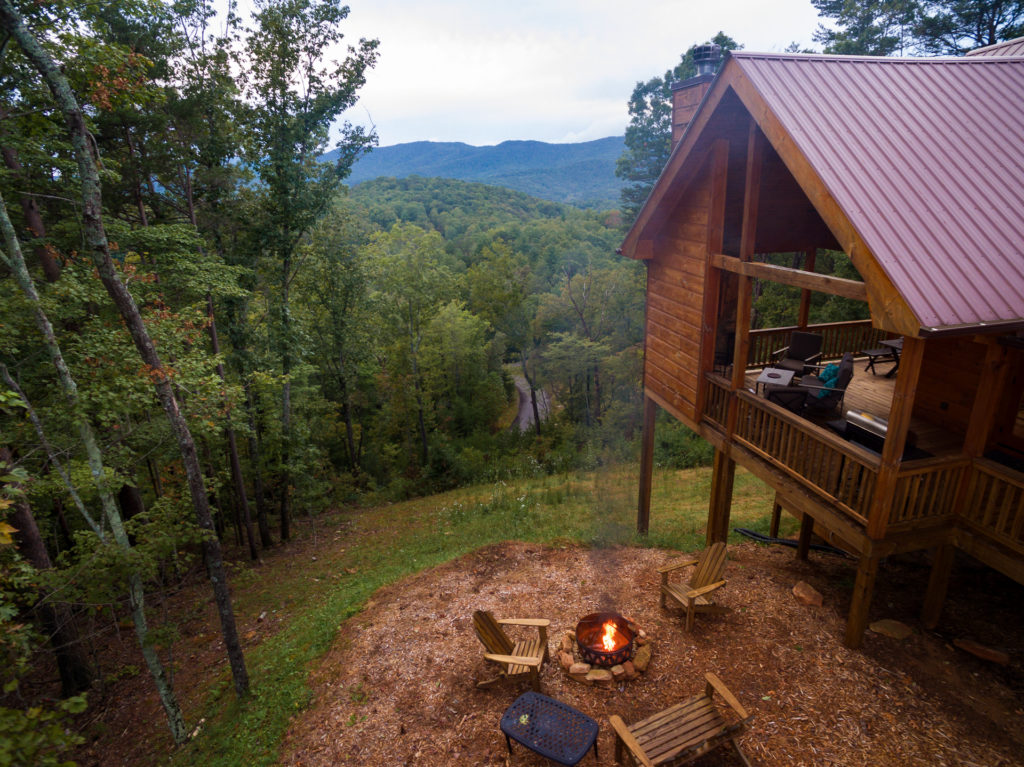 Leatherwood Lodge
Reset to Mountain Time with a retreat to this exceptional three-bedroom recently built cabin in the mountains of Georgia! Perched high above the treetops of the Chattahoochee National Forest, with a stunning view of the Blue Ridge Mountains, this beautiful home combines a tranquil, away-from-it-all atmosphere with modern comforts like a private hot tub, game room, and satellite TV.
Leatherwood Lodge is tucked away in a quiet corner of the Blue Ridge. With ziplining, whitewater rafting, hiking trails, and horseback riding around every corner, this home is a dream come true for nature-lovers and adventure-seekers. But it's also the perfect spot to slow down, take in the 360-degree views, and savor the moment – whether that's with a lively conversation around the firepit or a relaxing soak in the private hot tub. Boasting a beautiful wood interior and huge windows gazing out across the forest, this home is mountain living at its finest. Spend summer evenings outside on the wraparound deck with a cocktail or glass of lemonade, challenge your friends to a game of pool or foosball in the game room, or curl up in front of the gas fireplace with a movie on those cold winter nights. Free WiFi, central A/C, and a private washer/dryer provide all the comforts of home, while the fully equipped kitchen makes it easy to fix a hearty meal at the end of the day.
Find a date by clicking here or calling 706-258-3286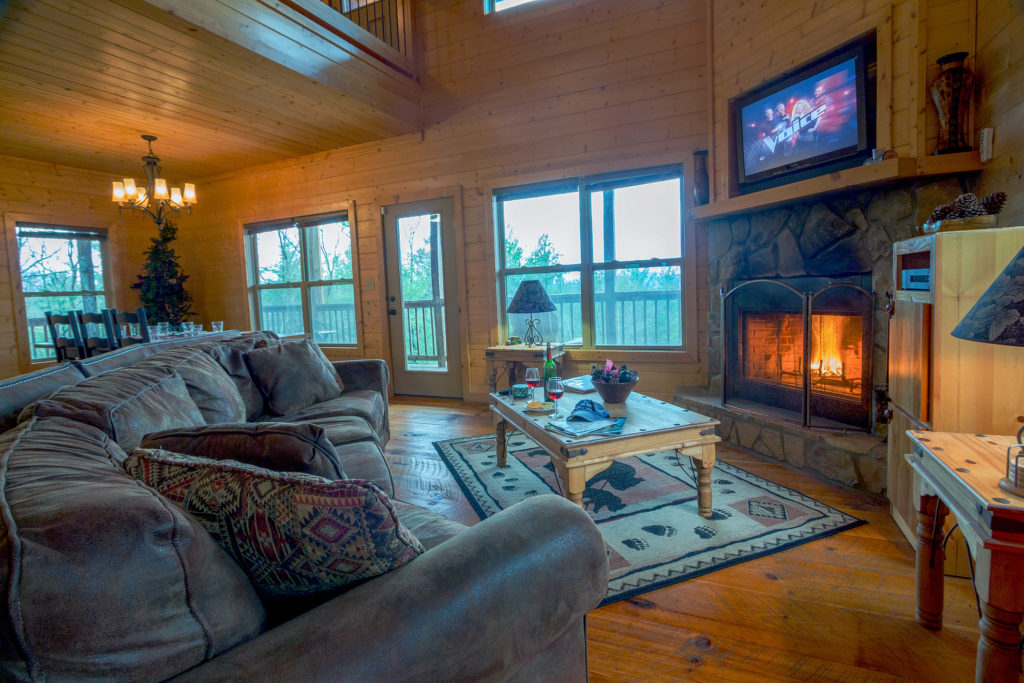 R & R Retreat
Perched high on a hillside and surrounded by breathtaking mountain views, you'll find plenty of space to unwind at the R&R Retreat. With three levels of room to relax, read, talk, and play, this dog-friendly cabin (dogs are allowed with an additional fee) is wonderful for retreats, family reunions, and more. This cabin sits 11 miles from downtown Blue Ridge's dining and shopping. You're surrounded by great options for whitewater rafting, canoeing, kayaking, golfing, and other outdoor activities, too. Take in the mountain views back at the cabin from the porch swing or the comfortable rocking chairs. Warm up by the seasonally available outdoor wood-burning fireplace and make s'mores on the deck. Watch the fireflies from the lower porch's hot tub to end the evening.
Find a date by clicking here or calling 706-258-3286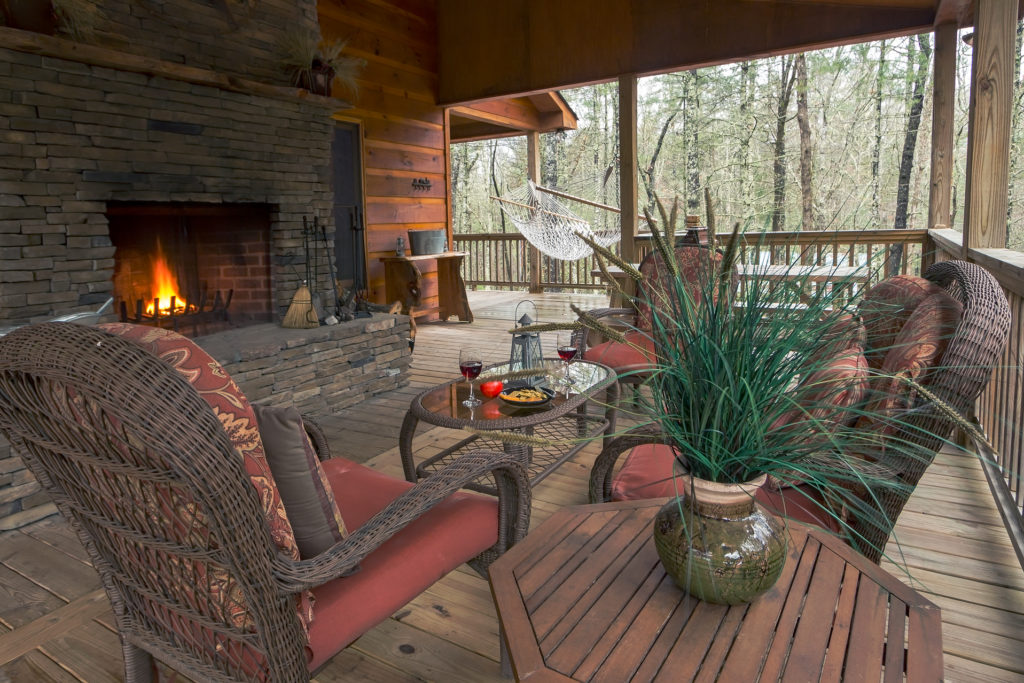 Jack Bear's Cabin
Leave behind your worries and stretch your legs in Georgia's breathtaking mountain country. This Blue Ridge cabin lets you enjoy fishing, hiking, and more, with modern comforts like a private hot tub and free WiFi waiting at the end of the day.
Tucked away in a quiet neighborhood with the river across the street and down a path, you'll be far from city stress and loud noise. Trade in skyscrapers and traffic for hiking, fishing for trout and swimming in Blue Ridge Lake. After a long day out, lounge on the hammock on the deck and warm up by the outdoor fireplace.
Find a date by clicking here or calling 706-258-3286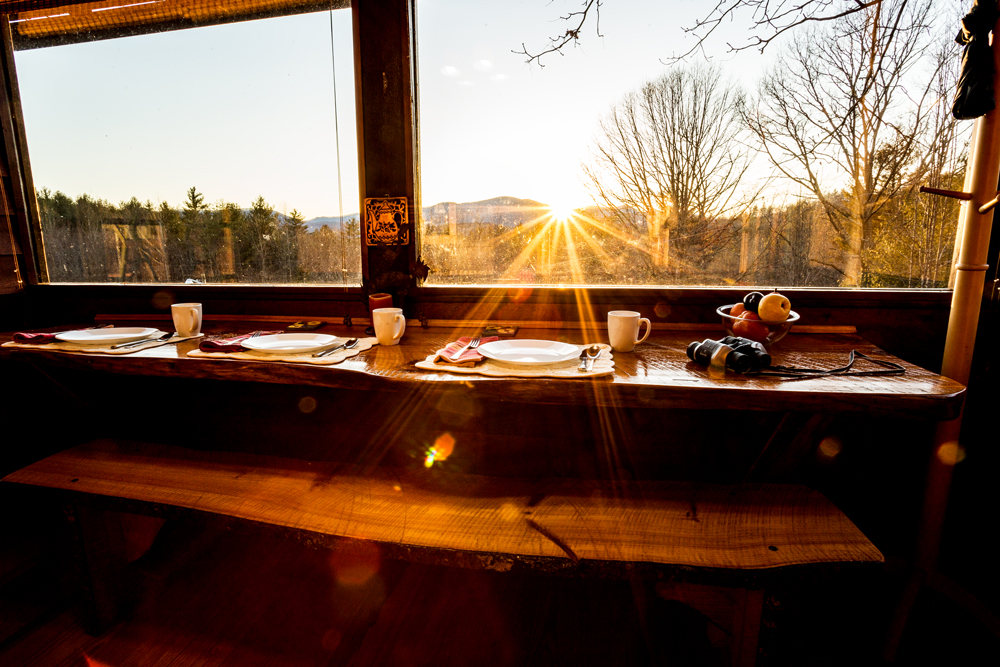 Rich Mountain Bungalow
If you're heading to Blue Ridge for a rejuvenating break from the day to day, come to settle in at this quintessential cabin in the woods and revel in your own private hot tub, an outdoor firepit, lovely mountain views, and more. And you'll be happy to know that you can bring along two dogs, as well, for a small nightly fee! You'll be located near the Aska Adventure Area, so head out for a hike or fish for trout whenever you like, or kick back in one of the Adirondack chairs around the firepit while you imbibe a glass of wine or roast marshmallows.
Find a date by clicking here or calling 706-258-3286
For more cabins, check out Vacasa for booking made easy! You can also call them locally at 706-258-3286.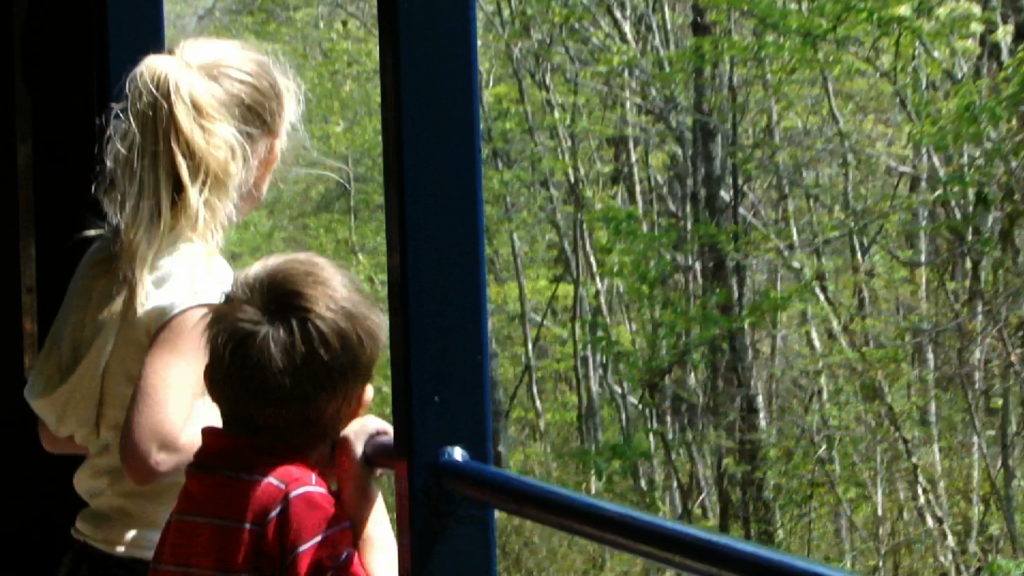 Things To Do
We recommend a minimum of 2-3 days in Blue Ridge GA because there is so very much to do. However, the most important thing we can share with you is to use the time to RELAX! If being in nature brings you peace, this is the place for you. If doing adventurous activities bring you happiness, this is the place for you. If having some wine on a back porch gazing at the mountains brings you joy, this is the place for you! There is truly something for everyone. We have listed our top 20 things to do in Blue Ridge GA:

Watch a sunset at Brasstown Bald
See 4 states from the observation deck at Brasstown Bald
Ride the Blue Ridge Scenic Railway (Only April through December)
Discover many waterfalls like Heron Creek Falls, Fall Branch Falls, Despot Falls, Benton Falls & Raven Cliff Falls
Visit Mercier Orchards
Walk across the Toccoa Swinging Bridge
Whitewater rafting on the Oconee River
Take a canopy tour and zip line through the forest
Go hiking on the following trails: Appalachian Trail, Springer Mountain, Blood Mountain
Watch a sunset on the Appalachian Trail
Check out the lakes/rivers and go fishing for trout,
Fish for Trout at the Chattahoochee Fish Hatchery
Go tubing on the Toccoa River
Take a guided tour drift fishing on the lower Toccoa River
Check out the 100 miles of shoreline on Lake Blue Ridge
Visit the Swan Drive-In Movie Theater
Ride Horseback on any of the mountain trails
Take a scenic drive in the mountains
Visit a local winery or restaurant
Check out the Blue Ridge Mountain Arts Center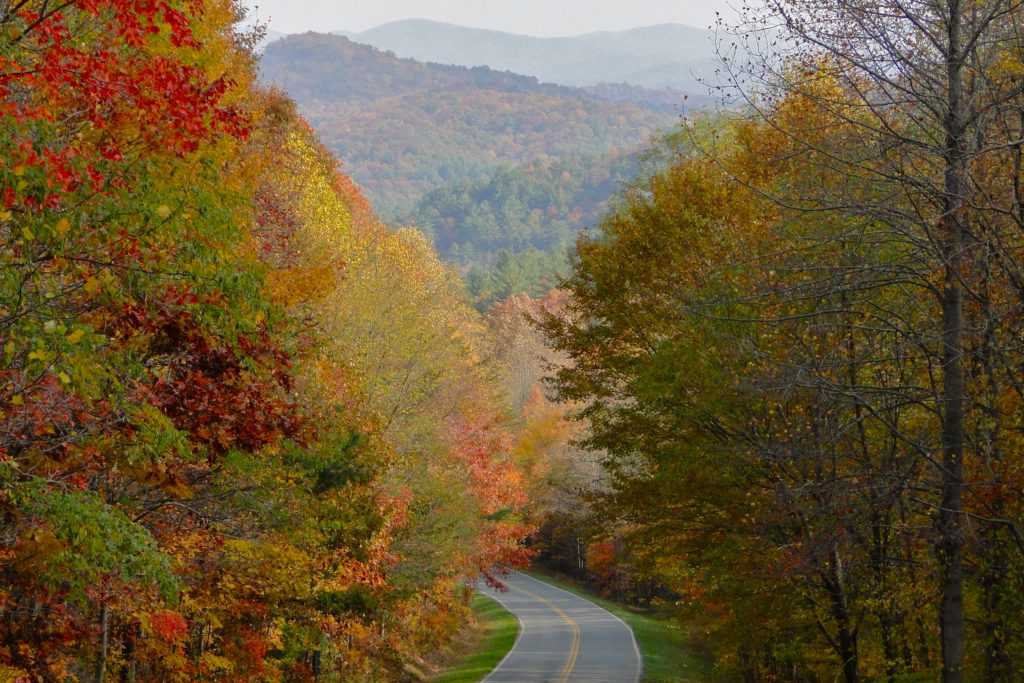 What would you add to this list of the top places to stay & things to do in Blue Ridge GA?
---
More About Vacasa:
The team at Vacasa has made it our top priority to make the world of vacation rentals a simple, stress-free experience for both owners and guests. Vacasa offers professional rental management for more than 8400 vacation homes in some of the most desirable vacation destinations in the U.S., as well as Central and South America. From laid-back beach cottages along the Oregon Coast to luxury ski chalets in Vail to tropical getaways in Belize, Vacasa offers just the right retreat for any guest.
In today's busy world, a vacation is a precious opportunity to relax and reconnect with loved ones. Spending that valuable time in a real live home can be especially rewarding, from cooking breakfast together each morning to relaxing by the fireplace every night. Our mission is simple: to make vacation rentals easy.
Vacasa offers the unique combination of professional management in privately-owned homes, making it possible for our guests to enjoy a one-of-a-kind vacation experience without compromising on service and convenience. Our team of passionate hospitality professionals is the finest in the industry, with each Vacasa team member (from housekeepers to reservations agents to local managers) working hard to ensure that each home and every guest is well cared for.
---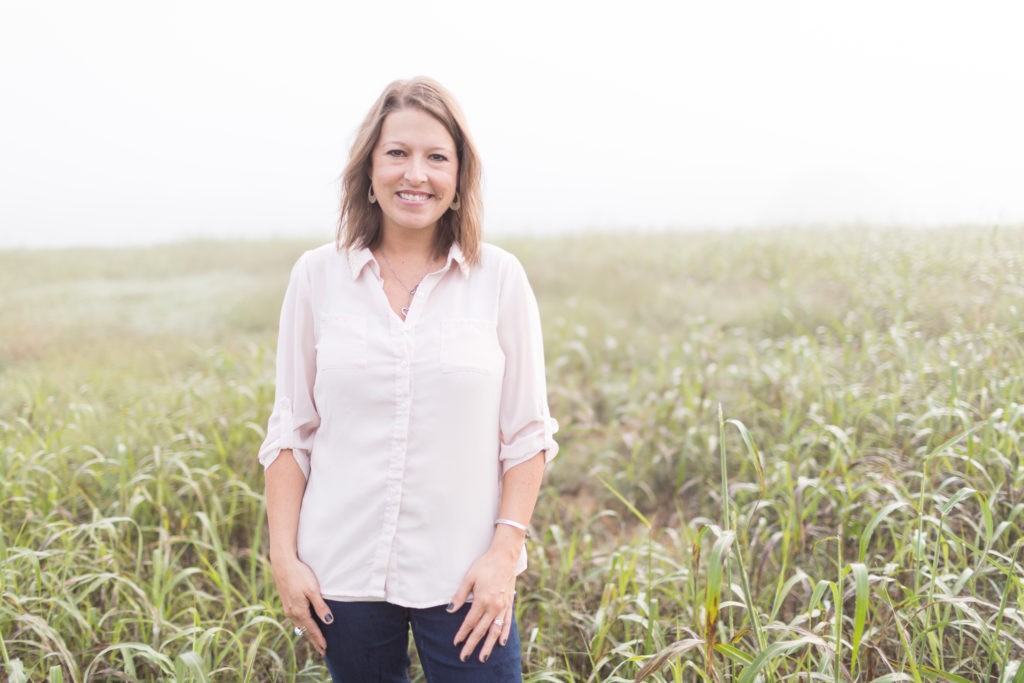 Rachael Walkup has lived in North Georgia all her life. Since 2006 – The Walkup family has made Forsyth County their home. Along with being a wife and mom, Rachael is an avid blogger, social media expert, and owner of CummingLocal.com. Her time is spent promoting local events and small businesses in North Georgia.  With a background in Marketing and Sales, coupled with her experience in Project Development and Search Engine Optimization (SEO), Rachael offers consultations and classes to help clients reach their fullest potential.