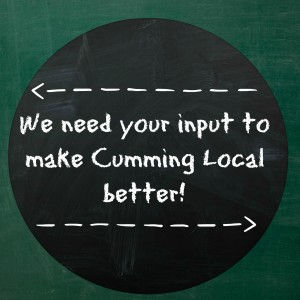 Update:  Thank you all for taking the time to respond to our survey.  The giveaway portion is now closed.  Congratulations to  jprill81 who was selected via Random.org and notified via email.
To our wonderful readers,
We are looking to improve Cumming Local and we cannot do that without your feedback and opinions! We've put together this short survey so we can find out a little bit more about you. We want to make sure we're bringing you the information that you are looking for!  In addition, it will help us inform potential sponsors what they can expect by partnering with us.
Please know that we care about your privacy; none of your individual information will be shared, we simply use it as a collection of all responses received.  At the end of the survey,  you may be entered to win a $50 VISA/MC GIFTCARD.  This is completely optional; however, we do require your email address so we can contact you if you win. The giveaway will end on Wednesday, 9/18.
You are the reason why we do what we do and why we love our job! Thank you for taking the time to make Cumming Local even better!!