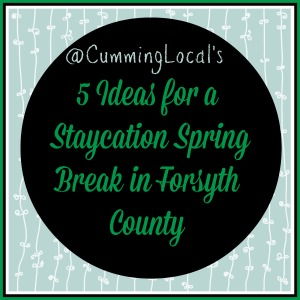 5 Ideas for a Staycation Spring Break in Forsyth County
Disclosure:  This post contains affiliate links – that means I'm sharing because I think it's something our Cumming Local readers might enjoy, but in the event you click and sign-up or purchase, Cumming Local receives a very small percentage.  Small percentages help keep Cumming Local online & up to date:).
Are you doing a "staycation" for Spring Break this year? That's what my family is doing. I wish we were going on vacation but we are staying right here in Forsyth. But that is ok because there is plenty to do. We also posted a Things to Do for Spring Break article, check that out! Outside of those ideas, we also wanted to give you our top 5 Ideas for a Staycation Spring Break in Forsyth County.
Here they are in no particular order:
1. Hike Sawnee Mountain & picnic – If you haven't hiked Sawnee Mountain, then you are missing out. It's awesome! Here's a post we wrote about a trip to Sawnee Mountain, click here.
2. Playground Tour & picnic – Here's your chance to really shine as a parent…make a bucket list of all the playgrounds in Forsyth County and visit them all! Click hereto see all the playgrounds in Forsyth County.
3. Head to a Pool – In Forsyth, you can go to the Cumming Aquatic Center.
4. Indoor Fun – Here is a post we recently did to help with some fun ideas that you can do inside – click here.
5. Take a trip downtown – There are plenty of deals that you can find online through some our our affiliates. During the week of Spring Break you could go to Legoland in Atlanta (just $9 through April) or maybe catch a Braves game or send the kids to a camp all of these options at a discounted rate!  You can find all those deals by going to either Goldstar or  Certifikid.
What would your top 5 ideas be?