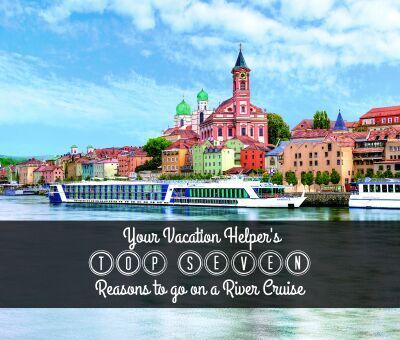 TOP SEVEN Reasons To Go On A River Cruise
The following article is a guest post from Shannon Moss of Your Vacation Helper. I asked her what the top reasons were to go on a River Cruise. She gave me 7 great reasons! She has an event coming up on September 10th. More information is included at the bottom of this post.
With a cruise you can visit many destinations and only unpack once. A river cruise docks in the heart of the city so you have more time to explore. Thiis also makes it easy to explore on your own as the ship is close by.
Luxury travel with more inclusions- With river cruising, shore tours are INCLUDED. River cruises will include soda and local beers and wine at lunch and dinner with some cruise lines including unlimited beverages. This allows you to avoid the sticker shock sometimes felt on less inclusive ocean liners.
Tours with local guides- the tours in port are smaller in size than typical ocean cruise excursions and are led by local guides. This allows you to have a more intimate experience and learn more about the area you are in. Visit a vineyard or Monet's garden in France, make strudel in Austria, immerse yourself in Flamenco in Spain, or explore safari river cruising in Africa.
Smaller ships- fewer people and more personalized service. River cruise longboats have size restrictions to allow them to navigate the river and under bridges. Fewer passengers on board present a more relaxed atmosphere and ship staff have a smaller crew to passenger ratio allowing for more detailed service onboard.
Scenic cruising- Since the ship cruises the river, which is the heart of the city, the scenery is always changing. Sunrise and sunset over the river bank, castles, historic sites or vineyards is more exciting than over the ocean.
River cruising is changing- many people think that river cruising is only for the older crowd, however with changes in the industry, the average cruiser is around 55. Many cruise lines such as Amawaterways have bikes on board, art and history lectures and themes cruises such as beer and wine cruises which often appeal to younger passengers. Amawaterways has even partnered with Adventures by Disney to offer river cruising for the entire family.
This is my favorite. Because river cruises operate smaller ships, it is easier to make a group. A group is typically 5 cabins. With a group, you can get additional benefits like extra discounts or in room gifts. If you are traveling with your friends and family as the group leader, you could go for free.
Want to learn more? Join us for a fun cruise night!
When: September 10, 2016
Where: The Columns at Pilgrim Mill, 2090 Columns Dr, Cumming, GA 30041
Time: 5:30PM.
What's included: Prizes, wine, fun and great information from an expert in the industry.
Be sure to RSVP for door prize entry!