Valentine's Day 2013:  Crafts, Food & Local Fun in Cumming GA



Valentine's Day 2013 falls on a Thursday this year.  And there are so many things to do in Cumming, GA & Forsyth County to celebrate Valentine's this year.  Make sure you check out our Round-Up of Local fun.  But there's also a lot you can do to celebrate at home – with crafts & homemade food too!
Valentine's Day 2013 Craft Ideas:

Valentine's crafts (especially) for the kids are always a lot of fun.  I love this Valentine Heart Cone Tree made by I Gotta Create.  It would be a fun centerpiece on the kitchen table during the month of February.
My daughter (age 4) absolutely loves any excuse to get the paint and craft paper out!  She would love to make this handprint tree – paint AND getting it on her hands (on purpose) and she's in heaven!
My son on the other hand is starting to not enjoy crafts as much.  But I think with the right colors of felt, he'd actually enjoy having these felt arrows!
Valentine's Day 2013 Food Ideas: 

A heart shaped mold and a little pink & red can turn a regular meal into a fun Valentine-themed meal for the whole family!  Of course Chex Mix is always fun, easy and makes a great gift too.  A simple heart candy pressed into cookies, like shown by this Betty Crocker Cookie recipe is definitely easy.  And I love these heart pancakes – even without the red food coloring, you could make a heart with strawberries and the kids would love it!
Valentine's Day Local Fun:
Fun Around Town – We have a round-up full of things to do in Cumming GA & Forsyth County for Valentine's 2013.  The round-up includes fun things for kids, and special promotions at restaurants and retail stores too.  Click here to check it out.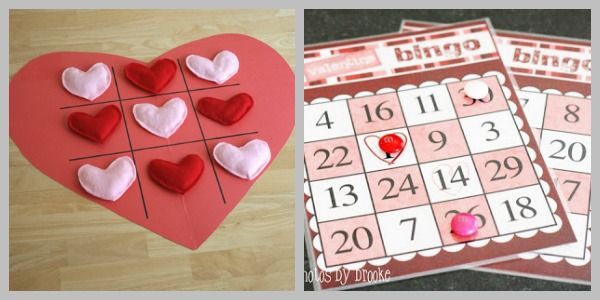 Fun at Home – If you're looking for some extra fun with the family at home, I love this BINGO card idea and this tic-tac-toe game also.  And if you're ready for a FULL night of fun, check out this list of Valentine themed Minute-It-2-Win-It Games – too fun!!
Happy Valentine's Month!!