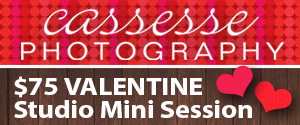 Valentine Studio Mini Session with Cassesse Photography
Grab your little loves and get ready for another Studio Mini Session with our website sponsor, Terri of Cassesse Photography!
It's time for a Valentine Photo Session!
Session Details:
Now booking for January 25th – Studio Mini Session for just $75
Includes 20-minute session for 1 child, 5 Digital Images on CD plus a Photo Print Release
This offer is simply SWEET so don't miss out!!  Space is limited & sessions are already being booked, so schedule yours today!
Contact Cassesse Photography:
Email – terri@cassessephotography.com
Visit Cassesse Photography Online  |  Like Cassesse Photography on Facebook