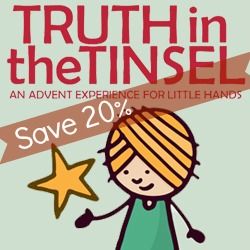 Truth in the Tinsel Discount Code 2016 – a Christmas Countdown for Kids



This will be our 5th year doing Truth in the Tinsel in our house.   I admit I may not make it all 24 days, but it's always something we start and work through as many days as possible!
It's been five years now since Cumming Local first shared about a very special e-book that had just been released – Truth in the Tinsel.  It was written & developed by a great woman, Amanda.
No, we won't start counting down til Christmas tomorrow, but we will start soon – so now's the time to snag the e-book (if you haven't already) and get your supplies together!
It's so easy to get tied up in the hustle and bustle of the Christmas season and forget to stop and spend time teaching our children about the event that actually started the Season so many years ago – the birth of Jesus!
This e-book helps families do just that!  My family has joined in the fun each year and I'm looking forward to going through it again with the kids this year.
What is Truth in the Tinsel?
Each day, you & your children will spend a few minutes reading a Scripture from the Christmas Story, making a fun ornament craft that goes along with it & talking about it together.
Here are few reasons why I love this eBook:
The work is already done!  There is so much to do this time of year that it's easy to make an excuse & skip the things that take just a little more time.  But Amanda has taken all the pieces and packaged them together so that all we busy Moms have to do is follow directions!
Supply List – A complete supply list is provided – every pipe cleaner, glue & construction piece needed.
One Day = One Page – The activities for one day are nicely packaged onto one page.  So everything is totally manageable but you can also expand on it if you want.
Practical Crafts – I am no Martha Stewart! It's written for children, so the crafts are appropriate just for that!
The Message – what better thing to impress upon our kids this Season!
What do you get?
Upon purchase, you'll get an email for immediate download.  You can then open the e-book on your home computer or tablet and print a copy for yourself too.  Here is a sample page to see what each day looks like:


Truth in Tinsel is designed to start on December 1st and it goes up til Christmas.  It's available for you to purchase and download for just $7.99 – but use code "CUMMINGLOCAL" and save 20%!!  You can also order the printable set of ornaments for just $3.99.  This is the no-excuse route!  The ornaments are all ready for you!  Just print, cut, let the kids color & decorate and you're good to go!
If you're looking for something different this year to enjoy with your children and have for years to come as a way to celebrate the meaning of Christmas, I definitely recommend this e-book.
Click here for purchase information and to learn more.
If you do start the Experience, let me know.  I'd love to know how your family is using it!
Truth in the Tinsel Discount Code 2016
Use code "CUMMINGLOCAL" to save 20% off the purchase price of the e-book!!
*Note:  Discount does not apply to ornament book &/or curriculum.  Affiliate Links are included within – it doesn't cost you any more to use those links, but Cumming Local will receive a portion of the sale for a referral.
Click here for purchase information and to learn more.