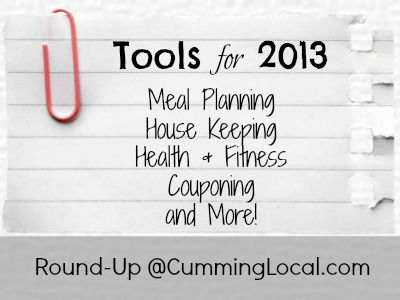 We're continuing our "Tools for 2013" series with a topic that usually gives me mixed emotions – exercise.  You see I go through different seasons of actually enjoying exercise and then absolutely dreading it.  And to be fair, most of my dread comes from the thought of working it into my schedule.  That's sad, I know.
Some of you might be able to relate though.  I have one child in elementary school but another still in pre-school.  She only goes 3, half-days each week.  So I have my schedule drilled down to minutes.  After drop-off and pick-up times I basically have 3.5 hours each day to make A LOT happen.  And that's only 10.5 hours each week for free time, me-time, and all that important stuff that I don't want to do with children like grocery shopping, doctor appointments.  And oh yeah, I have this little thing called work & Cumming Local too!!  So again, I dread fitting it into my schedule.
But I also know that it's important and the only way I'll ever actually exercise is if I make it a part of my schedule!
I wanted to share a few resources with you today.  Some I currently use & they have been helpful to me over the years.  Some, I'm just looking into this year but feel they might be helpful to me in 2013.  Hopefully you'll find one (or more) that might be helpful to you too.  
Exercise at Home:
I'm a fan of Jillian Michaels on The Biggest Loser.  I love her no non-sense approach and I've tried a few of her at home DVDs because of that.  But I always end up back with The Shred.  I can't get into a DVD work out at home if it's much longer than 30 minutes so this is perfect for me.  At the end of 30 days I feel like I accomplished something.  And with 3 different levels, it's even easy to continue long past 30 days.  For the cost of the DVD and some weights, it's a very low-cost commitment.  Click here for more about Jillian Michaels – 30 Day Shred

Last year I also tried a new program, The Pink Method.  Again, it's an at-home DVD system but it includes work-out dvd's plus a complete nutritional guide with recipes.  It also has an online element to help you keep track and track progress.  I plan to incorporate it again later in the year.
Forsyth County Fitness Pass
Forsyth County offers a very affordable fitness program through the use of their "Fitness Pass".  It is offered at the Central Park, Fowler Park & Old Atlanta Park Recreation Centers and includes – Cardio/Weight, FitClass (Group Classes) or FitPass Plus (which includes both cardio/weight & fit classes).   You may choose which element you want to pay for & use.
You simply purchase the pass & then start working out.  And I like how they've broken the rates down into 3 months, 6 months or one year.  That feels comfortable with a budget!
Click here for more information on the Forsyth County Fitness Pass.
Local Gyms
We're very fortunate to have lots of gym choices in Forsyth County.  You can choose a facility specifically for women, specifically for personal training or of course by the style of workout like pilates or the ever popular cross-fit now.
Ladies – if you've considered Curves in the past, be sure to check out this current promotion.
Hobby & Exercise
I've always said I wanted to be a runner.  Sadly I'm not there yet, but I still have time!  This is the most obvious type of exercise to me – anytime you can turn a hobby into your exercise you're killing two birds with one stone & having fun in process.  I need to choose better hobbies – ha!!
Again, in Forsyth County we have some great resources for your active hobbies.  Bikers have an option like Reality Bikes and runners have a great option like Totally Running across from the Avenue.  And both can take advantage of the popular Greenway.
So, how do you fit exercise into your life?  What's on your exercise plate for 2013?