Things to Do in Cumming GA – Week of August 11th, 2014
The Thursday/Friday start of last week always feels like a little dress rehearsal to me – so here comes the first FULL week of school – let's do this!!  Traditionally it's another quieter week – to help you get acquainted with schedule, homework, and the new normal.  Or just to catch up on some R&R.
Parents of Preschoolers- many programs aren't back to full routine yet, but you can definitely check out our things to in Forsyth County with Kids from A to Z – it's geared towards summer, but full ideas no matter what day of the week, so you might find something you can do.  Also, check out this article from last year for some ideas too.
Also just as a reminder – take a look at our Calendar of Events page for a full listing as well as details on each activity.
MONDAY: 
TUESDAY:
Storytime at Barnes & Noble
Poker and Team Trivia at Coo Coo's Nest
Totally Running Tuesday Night Group Run
And more!
WEDNESDAY:
Special Needs Awareness of Public Safety
THURSDAY:
Creekside Consignment Sale
and more!
Click here for all the Calendar information – and to get a head start on Weekend Plans!
Coupons & Deals:
Kids Eat Free:
Don't forget to check out our Kids Eat Free Listing!
Summer Break may be over but there are still some summer activities: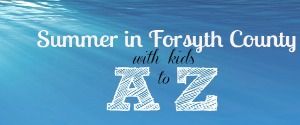 Play Local, Eat Local, Shop Local, Stay Local … support LOCAL!