Sweet, Sinful and Safe Goodies from The Sweet Home Bakery
Located in Forsyth County, Cynthia Baker of The Sweet Home Bakery offers up wonderful treats you can't resist.
Living with any sort of intolerance or allergy is NO LONGER a sentence to life without delectable deserts. I'm excited to introduce to you, Cynthia from The Sweet Home Bakery. She has a dedicated Gluten Free, Tree Nut Free, Peanut Free, Coconut Free kitchen where she creates freshly baked, mouth watering, cakes, cupcakes, cookies, donuts and rustic pies just for YOU! Each of her made-to-order items are a small batch, crafted from scratch, using only the highest quality ingredients from safe and dedicated sources.  She likes to say that if "I wouldn't eat it everyday, I won't use it in my baked goods."
Cynthia focuses on using ingredients that are dense in nutrition and flavor. Organic milk, sweet cream butter, fresh eggs, rich chocolate, and NON-GMO mineral & vitamin fortified Gluten Free flour blend means wonderful textures and flavor that is often BETTER than its wheat based counterpart.  The Sweet Home Bakery even has a seasonal menu which means the tasty delights are made with fresh local ingredients like delicious Georgia peaches, berries and apples.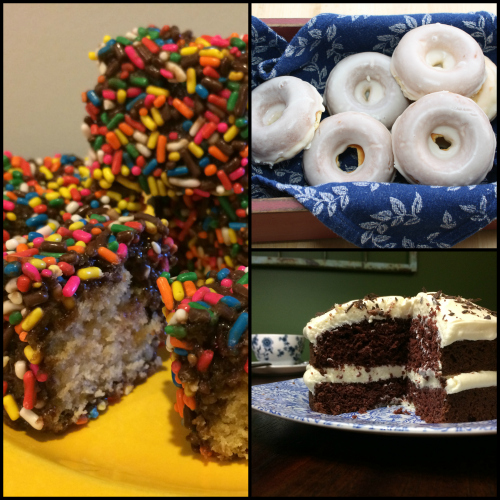 Clean eating is a wonderful thing, but life needs a little indulgence now and again!  The Sweet Home Bakery is here to help with that. Even if you don't have any allergies or intolerances, these treats are more nutrient dense, healthier, and more natural. I might even be as bold to say they are good for you 🙂 Of course, just my opinion! But one bite and just like me you will be saying "I can't believe these are gluten free, dairy, and/or nut free."
SPECIAL FOR CUMMING LOCAL READERS: You can receive $5 off your first order. Be sure to mention you heard about The Sweet Home Bakery from Cumming Local. 
---
Connect with The Sweet Home Bakery Online:  Website | Menu | Facebook
Email – thesweethomebakery@gmail.com
More About Cynthia, The Sweet Home Bakery:
As a diagnosed Celiac, with life threatening food allergies, I understand firsthand the frustration of never being able to just waltz into a bakery and buy something to sink your teeth into.  I also know too well what it's like to have a fun evening with friends turn into a horrible night in the ER.
I was diagnosed prior to food labeling regulations.  Eating out was trial and lots of error. There were no physicians who could point me in the right direction to regaining my health, so I began studying alternative medicine and nutrition.  My eventual practice as a Professional Herbalist employing functional medicine, gave me years of clinical experience using the nutrition of real food to optimize health.  I authored The Get Real Cookbook, to help my clients find a solid foothold and thrive.  Clean eating is a wonderful thing, but life needs a little indulgence now and again!  The Sweet Home Bakery is here to help with that.