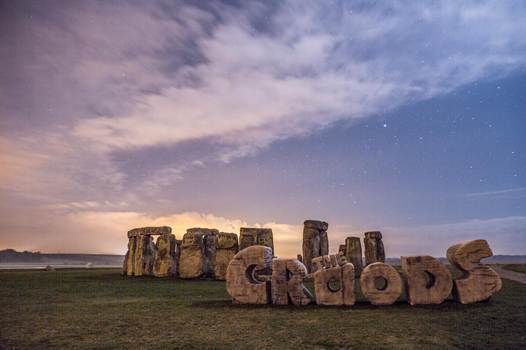 The Croods Movie Review
Two weekends ago, my family had the opportunity to preview the brand new 20th Century Fox movie, The Croods.  Going into it I had only seen one preview and I thought then that it looked pretty cute.  The preview highlighted both a great message about a family working together and also had some good humor in it too.
I recalled it also being from the same people that brought us How to Train Your Dragon, which my kids LOVED so I was looking forward to this new adventure.
I'll be completely honest (as always on this website) and say it started a little slow for me.  But then again, I'm not its target audience!  However it soon picked up and I was caught up in the family's adventure!
The cave-man family (the Croods) is forced out of their cave when their home is destroyed.  Together they are trying to reach a new land but come upon lots of obstacles.  I really liked the idea of highlighting the family working together.  A lot of movies are about a son or daughter finding their own way without the rest of the family.  So I really appreciated this take.
Now don't get me wrong – there is family strife!  The pre-teen (or maybe teenage) daughter is very independent and out spoken.  She has a plan and isn't afraid to step outside of her parent's boundaries.  And the mother-in-law and son-in-law definitely have lots to argue about!  But the point is, they're traveling on this mission together.  They all have to accept new ways of doing things and step outside their comfort zone.
The Dad is set up as kind of the "bad guy" in the whole thing, so of course my husband didn't like those parts – ha!
But my kids – they loved it all!  They thought the silly parts were hysterical and the cool parts were awesome!  They've already asked when they can see it again – good thing it comes out to theaters this weekend!
So those are just my thoughts … I'd love to hear yours!
For another perspective, check out Common Sense Media.
More about The Croods:
The Croods is a 3D comedy adventure that follows the world's first modern family as they embark on a journey of a lifetime when the cave that has always been their home, is destroyed. Traveling across a spectacular landscape, the Croods are rocked by generational clashes and seismic shifts as they discover an incredible new world filled with fantastic creatures — and their outlook is changed forever.
Rated PG, 98 Minutes
Starring:  Nicolas Cage, Emma Stone, Ryan Reynolds, Catherine Keener, Cloris Leachman & Clark Duke
See The Croods:
Playing at both Forsyth County Movie Theatres
Click here for showtimes and listings at Carmike Cinemas / Movies 400
Click here for showtimes and listings at AMC Avenue Forsyth
Photo Provided by Allied THA
Disclosure:  I was provided with four complimentary tickets to a pre-screening of The Croods movie in order to facilitate this review.  However all thoughts & opinions are my own.