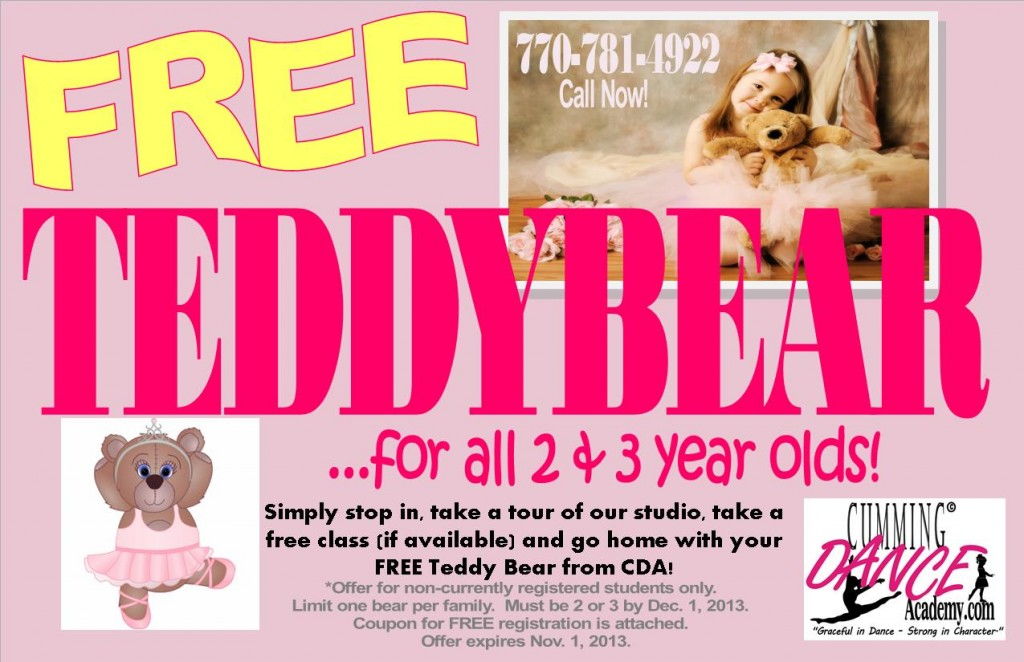 Teddy Bear Offer from Cumming Dance Academy
What do Teddy Bears, 2 & 3 year olds, and Cumming Dance Academy all have in common??  Hang tight & you'll see!
My kids are now 8 and 5, but I remember when my son started Kindergarten.  It was the same month my daughter turned three years old.  While it was fun to spend some great one-on-one time with my daughter, I knew she (and admittedly I), would need a small break from each other for both or sakes!  But what could that be?
I thought my daughter would enjoy dance – after all she was always twirling and jumping and running throughout the house.  So a 45-60 minute class once or twice a week seemed like a perfect fit!  Enter – Cumming Dance Academy!
In September we'll be starting our 3rd year of dance at CDA.  If you've followed me on Facebook or on this site for any length of time, you probably know by now how happy I am that we checked into CDA.  Their programs are top notch.  My daughter has loved every teacher she's had.  Their schedule of classes is incredibly convenient.  And we both still get that little break each week – shhh:).
So back to the teddy bear?
Cumming Dance Academy has a special promotion for all 2 & 3 year olds – Simply stop in.  Take a tour.  Even take a FREE class (if available) and go home with a FREE teddy bear from CDA!*
If you take the tour and are interested in signing up, you can even get a coupon for FREE Registration!
They have twenty-five classes designed just for children ages 2 & 3 years old – EVEN Pre-school BOYS HIP & TAP!!  Click here for the 2-3 year old CDA schedule.
And of course, be sure to mention you saw this promotion on Cumming Local – that part's not a requirement, but always awesome if you do!
*see fine print in offer image above.
Connect with Cumming Dance Academy:
419 Tribble Gap Road, Cumming GA 30040
Phone:  770-781-4922
Visit CDA Online
Like CDA on Facebook