The following is a guest post, provided by current website sponsors, ACA Landscaping.  ACA Landscaping provides full service design & landscaping in the Forsyth County area.  From Concept … To Plan … To Reality!  ACA Landscaping creates outdoor living spaces to fit your home & lifestyle!

Summer Snowballs:  A guest post with ACA Landscaping
The big snowball shaped blue flowers of hydrangeas are synonymous with summer.  They provide interest in our gardens during the heat of June and July when few other shrubs are blooming.  What many of us don't consider, however, is that there are many other types of hydrangeas besides the blue flowered hydrangea macrophylla that first comes to mind.  By using a combination of these different hydrangeas, we can create interest the whole summer in our garden.
The first type of hydrangea to begin blooming is the oakleaf hydrangea (hydrangea quecifolia).  It is a great addition to every shade garden because of its long bloom time and multiple season interest.  These hydrangeas begin blooming toward the end of May and produce an elongated cone shaped white flower that gradually takes on a pink tint as it ages.  The blooms remain on the shrub throughout much of the summer eventually turning a beige color.  Oakeaf hydrangeas exhibit fantastic fall color.  The leaves turn a deep burgundy.  'Alice' is a popular variety that grows to be about 6 feet tall and likes shade form the hot afternoon sun.  In face, 'Alice' was a 2000 Georgia Gold Medal Winner, a distinction given by the University of Georgia to plants that are low maintenance and perform well in Georgia.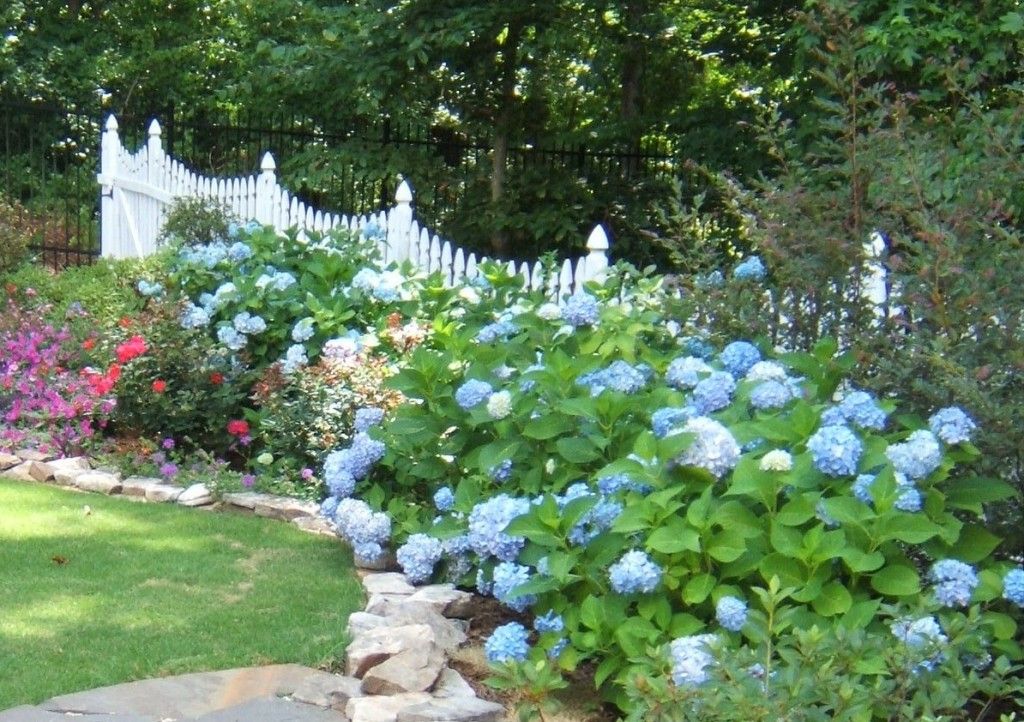 For those gardeners who have more sun than shade in their gardens, try hydrangea paniculata.  The name "paniculata" comes from the fact that the blooms are usually panicle-shaped (cone shaped) rather than ball-shaped.  Many paniculata blooms develop a lovely pink shade as they age, extending their beauty into the fall.  Paniculatas often get very large.  They can reach 8-10 feet tall and wide at maturity.  "Tardiva" is a wonderfully dependable, airy paniculata.  It can easily be trained into a tree form.  The blooms look fresh on the shrub for a long time, even after they've faded.  If provided with plenty of water, they will even tolerate sun.
Hydrangea arborescens haswhite blooms which work well in combination with other plants in the shade garden.  'Annabelle' is a stunning variety often producing blooms over 10″in diameter.  Unlike the better known blue and pink hydrangeas (macrophyllas), Annabelle blooms every year even after severe pruning or intensely cold winters.  The huge, white "drumstick" blooms appear in profusion without fail Hydrangea macrophylla is the most common seen type of hydrangea.  It encompasses not only the blue or pink mophead variety but also the less common lacecap type.
Lacecap hydrangeas should be much more widely grown than they are.  Their blooms are looser, more graceful and more subtle in effect than the mopheads making them easier to place in the landscape.  There is no doubt that mature lacecaps can be magnificent.  They fit quite naturally into woodsy locations, snuggling under and around trees such as dogwoods and azlaleas.  My favorite type of lacecap is the variegated variety.  Its showy leaves have creamy white margins that create a fantsastic focal point in the garden. They can be used to lighten up a shady corner or create a contrast when paired with glossy evergreens.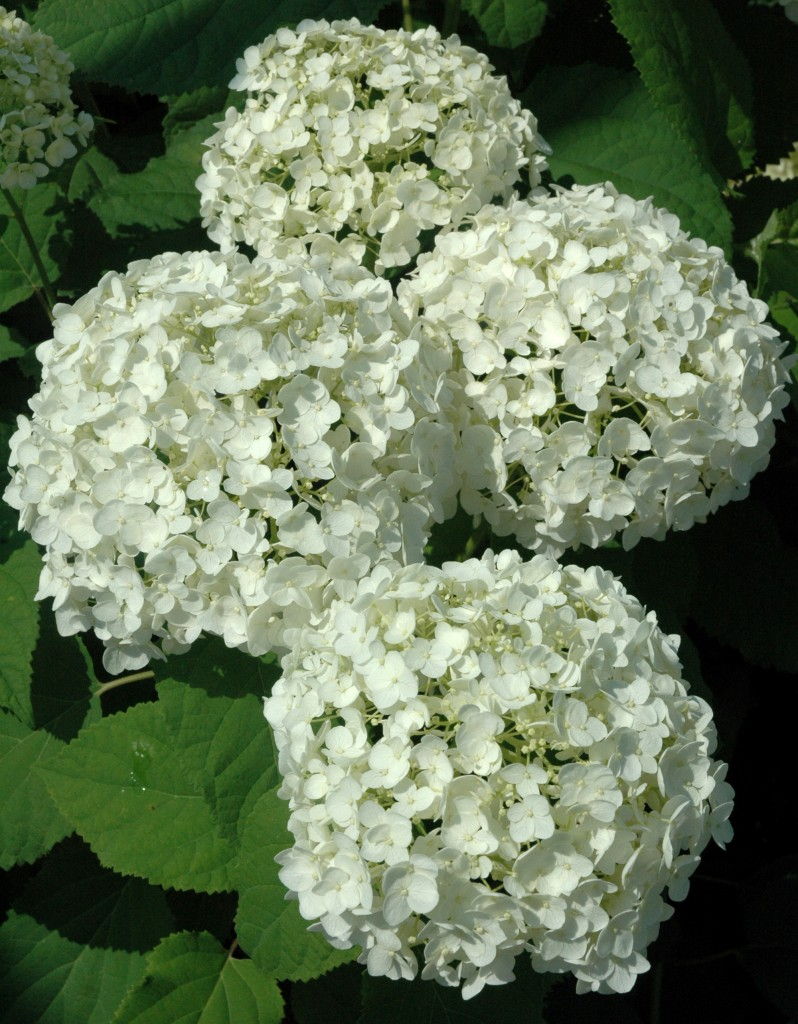 If you are hooked on having a blue mophead hydrangea in your garden, try Endless Summer.  This macrophylla blooms on both old and new wood providing blooms literally all season long.  Whether it has rick pink or blue flower mops will depend on the acidity of your soil.  It is remarkably hardy and since it blooms on old and new wood, you don't have to worry about pruning it at the wrong time like you do with some hydrangeas.
No matter which hydrangea you choose, most will grow well in morning sun and afternoon shade.  Place your hydrangea in a spot where it will get plenty of moisture.  Supplemental watering is especially important the first year or two when they are becoming established.  Mix a slow release fertilizer in with the soil when you plant and keep it fertilized regularly as it grows.  For low maintenance blooms all summer, design your garden using a combination of the different types of hydrangeas and you will find yourself saying "hooray for hydrangeas!"
Information & Photos Provided by ACA Landscaping, LLC 770-781-6677 Courtesy of Gardens By Design 770-401-9973.