Fabulous Summer Dance Camps At Footprints Dance Alliance
Registration is open and filling up quick for the summer dance camps at Footprints Dance Alliance!
Footprints Dance Alliance has excitedly rolled out their fabulous and fun summer dance camps! Registration is NOW OPEN online and at the studio (Located at 4335 Bethelview Road Suite 108, Cumming). Register early, as these camps are completely full every summer and fill VERY QUICKLY! And feel free to share with your friends and family.
Footprints Dance Alliance has summer dance camp offerings for boys and girls ages 2 to 18.
Mini-Camps Ages 2-6
Discover Dance Camp Ages 7-18
Company Intensive Ages 7-18 (Required for all students who wish to audition for the 2018-2019 Footprints Company)
The cost is $25 to "hold your spot" and if you register before June 1st, you will receive a $10 discount on your remaining balance! Tuition will be due and invoiced for all camps on June 1st.
Full Summer Dance Camp Details: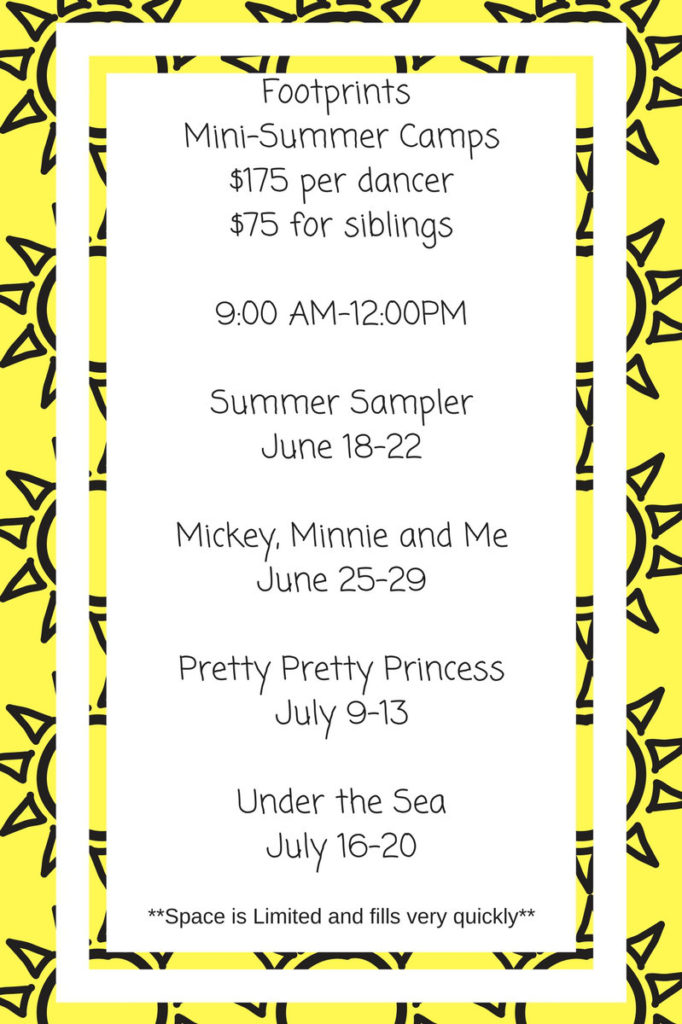 Mini-Camps (Ages 2-6) 9:00 AM-12:00 PM $175/dancer and $75/sibling
Get ready for a week of Faith, Fun and Footprints ! This summer camp will incorporate dynamic daily devotions, crafts, dance games, Ballet, Tumbling, Story Time and MUCH MUCH MORE! The week of fun will end a parent presentation and demonstration of everything the dancers have learned all week! Please pack a snack and a lunch everyday!
Sizzling Summer Sampler   June 18-22
Mickey, Minnie and Me   June 25-29
Pretty Pretty Princess  July 9-15
Under the Sea  July 16-20
Discover Dance Camps (Ages 7-18) 12:00-3:00pm $175/dancer and $75/sibling
This is the PERFECT camp for dancers looking to fall in love with dance! This camp will include dynamic devotions and techniques training in Ballet, Tap, Jazz, Contemporary, Hip Hop and Musical Theater! This is a wonderful opportunity to decide what style of dance you love the mos! t! Please pack a snack and a lunch everyday!
Discover Dance I   June 18-22
Discover Dance II  June 25-29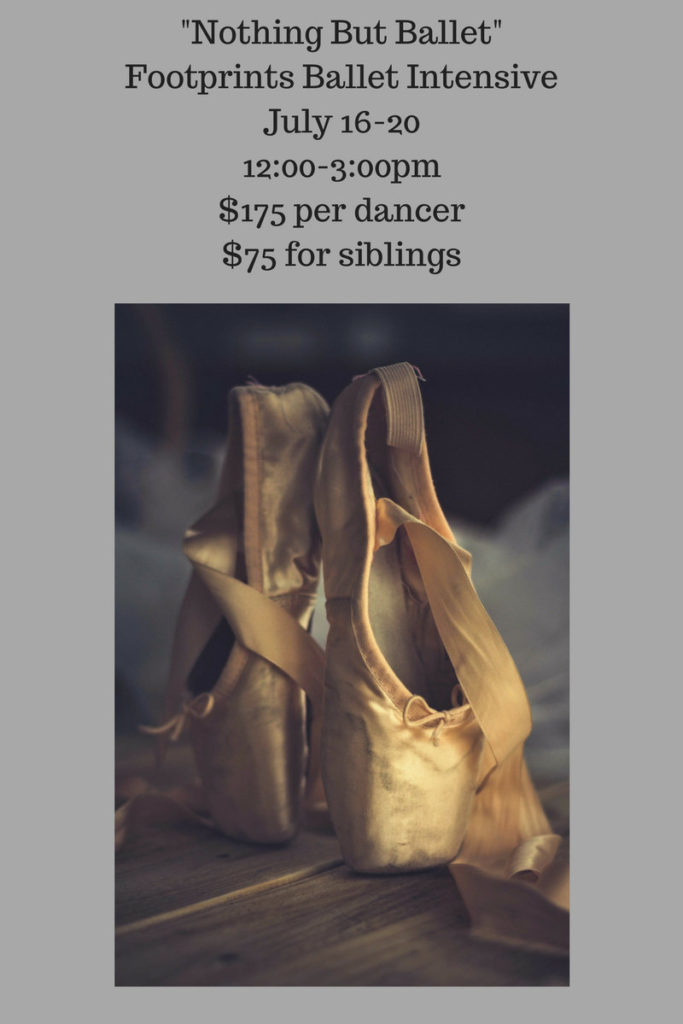 Nothing But Ballet (Ages 7-18) 12:00-3:00pm $175/dancer and $75/sibling
Let the incredible Miss. Taylor encompass you in a fun filled and faith driven Ballet only dance camp! You will learn new technique, fine tune existing skills and learn variations! Daily devotions will also occur every day! Please pack a lunch and a snack!
Nothing But Ballet  July 16-20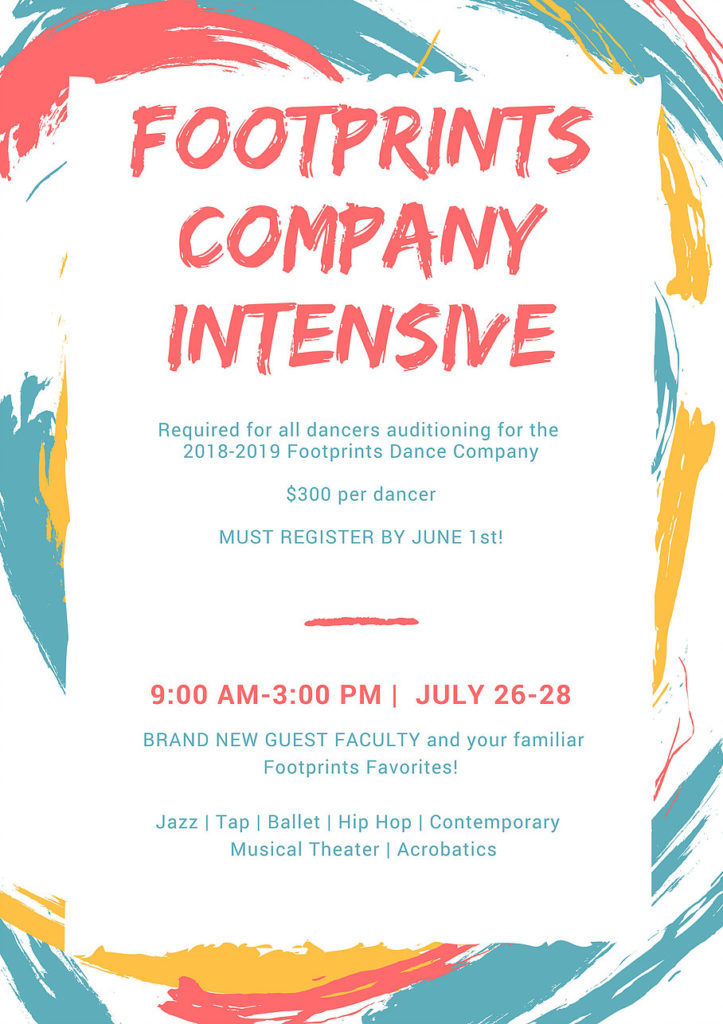 Company Intensive (Ages 7-18) 9:00 AM-3:00 PM $300 /dancer

Have you been interested in joining the Footprints Company? This is your starting point! Join BRAND NEW guest instructors and your Footprints Faculty Favorites in this intense "boot camp." Students will be taking Ballet, Tap, Jazz, Hip Hop, Contemporary and Acrobatics. This camp is REQUIRED for all students auditioning for the 2018-2019 Footprints Company. MUST BE REGISTERED BY JUNE 1st! No early bird discounts apply to this camp. REGISTER FOR Nothing But Ballet in addition to this camp for only $50!
Company Intensive  July 26-28
Registration Information
Ready to register? It's easy. Click here to head to the parent portal. You will create an account (under First Time Here) and then click on "class registration." There you will be able to add the camp of your choice. You can always register by stopping by the studio.
---
More About Footprints Dance Alliance: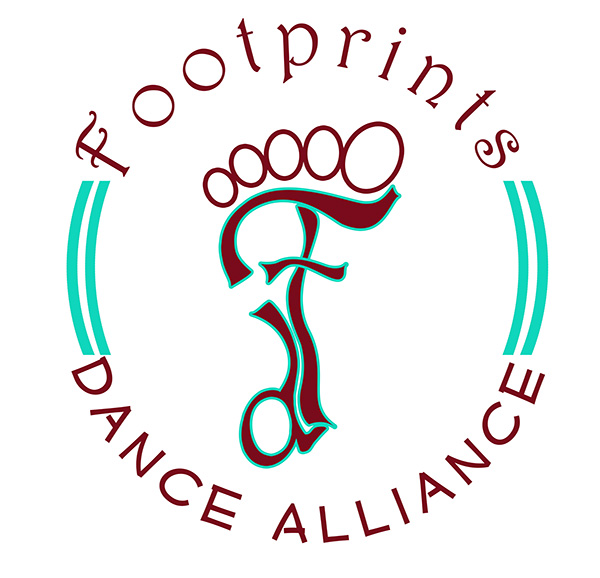 Footprints Dance Alliance is dedicated to training the next generation of dancers to be catalysts for Christ. We use Biblical philosophies, principles, scripture and values to lead our dancers to not only a future in dance, but also a growing relationship with Jesus Christ. We are not a church, but we are a place where people can come to feel loved, accepted and lifted up in their daily lives. Although we enjoy helping our students explore their Faith, we do not discriminate or follow any particular doctrine or denomination. We merely love as Christ loved and work to create a positive and uplifting atmosphere where every student has the chance to be both challenged and successful! We also make sure that our students are always modestly dressed and use age appropriate and conservative music and choreography. We spend a tremendous amount of time making sure that we are honoring God with our bodies and our choreography at all times. We use dance as a way to move our audience and Glorify God.
Connect with Footprints Dance Alliance Online: Website | Facebook