Using the Flame Boss 200
We got a Big Green Egg about a year ago and we have loved it so much! It was definitely a good decision to purchase one. During the summer, we cook almost every meal on the Egg. Today we are sharing our recipe and method for smoking some baby back ribs using the Flame Boss 200.
First Things First: We purchased our baby back ribs from a local meat market here in Forsyth County – Wilkes Meat Market. We were serving 6 adults and purchased 3 1/2 racks of ribs. It was way more than enough but I always like having leftovers. After we got home, we opened up the Flame Boss packaging and starting prepping the ribs.


Second: To get the ribs ready, we like to coat them in mustard as a sticking agent. You won't taste the mustard as it cooks off. Then we applied the rub. We used two types – Dizzy Pig Raging River and Head Country Original.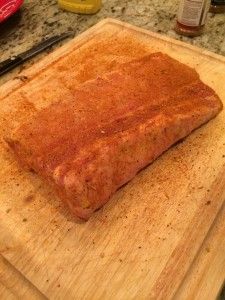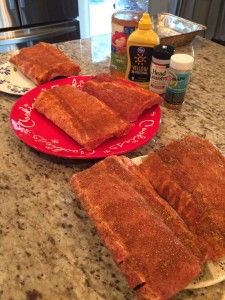 Third: We got the Big Green Egg fired up. We used Cherry and Hickory wood chips for the smoke on this cook. Once the smoke had leveled out, we hooked up the Flame Boss 200. Then we simply set the temperature desired – for this cook it was 230 degrees. When the temp got there, we placed the ribs in a vertical rack (can be purchased at Leonard's or Ace Hardware off Hwy 20) and started the cook.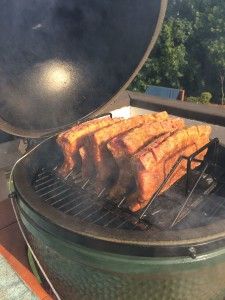 Last but not least: We waited for the next 5 hours patiently. The best part was we could leave the house and monitor the cook from the www.myflameboss.com website if we wanted to.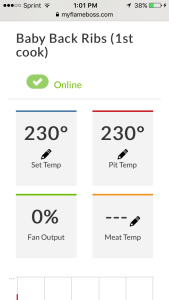 Here's our cooking method:
2 hours – ribs are in the vertical rack (rotate the ribs halfway)
2 hours and 45 minutes – ribs are wrapped in heavy duty foil lined with butter, honey, apple juice and extra rub.
Last 15-20 minutes – ribs are basted with BBQ sauce and placed on the grate.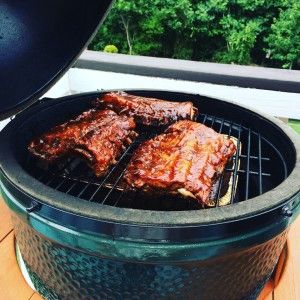 Final thoughts: The Flame Boss 200 will take a few more cooks to get used to. But overall, we loved it! If you are looking to purchase one – visit their website below.
More Information about Flame Boss: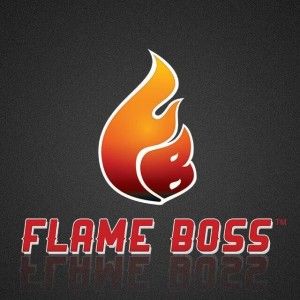 The Flame Boss temperature controller for kamado-style smokers like The Big Green Egg lets you get a good night's sleep and still serve smoked meat that ranks an 11 on the traditional 10-point barbeque scale. Just plug it in, set it and forget it.


Connect with Flame Boss online:
Facebook | Twitter | Website | Instagram
Disclosure: We received a Flame Boss 200 in exchange for writing a review on Cumming Local. However, all the opinions are 100% our own.