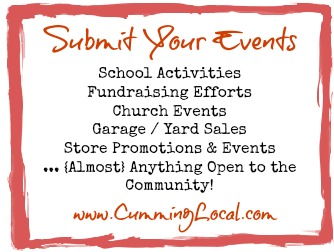 Submit & Share your Events
Did you know you can easily submit your community events to the CummingLocal.com Calendar page?
Simply submit your event by completing Calendar Submission Form online.  All event submissions are subject to approval of Cumming Local. Events should take place in Forsyth County and or benefit a business, non-profit or family (fundraising event) in Forsyth County.
Events may include the following: Non Profit & Fundraising, Business Sales & Promotions, Sporting Events, School Events, Church Events, Fairs/ Festivals … and More!
Help us, help you!
Click here to submit your first event.