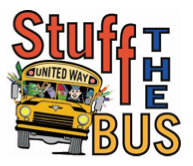 HELP US STUFF THE BUS!
Join United Way of Forsyth County as we "Stuff the Bus" with school supplies for students in need during the months of June and July. Donations will go to Forsyth County Schools and other local organizations serving our students.
In 2009, United Way of Forsyth County brought the Stuff the Bus initiative to our community in an effort to supply low income and at-risk Forsyth County students with the school supplies they needed to begin the school year. At the time, it had become increasingly difficult for families to afford the most basic supplies for their students.
In its first year, a modest 3,000 school supplies were collected and distributed through Forsyth County School social workers and The Place of Forsyth County.
Since then, approximately 230,000 school supply items have been collected and distributed to Forsyth County students giving them the supplies they needed to start the school year off on the right track.
In 2016, companies and civic organizations along with many individuals collected over 49,000 school supply items for distribution to children through Forsyth County School social workers and/or teachers. Other local organizations also received school supplies for the children and youth they serve.
For more information or if you, your business or organization would like to participate by collecting supplies during the months of June and/or July, contact the United Way office at 770-781-4110 or melissa@unitedwayforsyth.com. School supplies may be dropped off at the United Way Office located at 240 Elm Street, Monday through Friday from 9 am – 5 pm.
More information about United Way: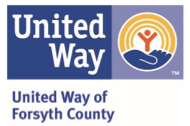 United Way of Forsyth County works to advance the common good by focusing on Education, Financial Stability, Health and Basic Needs. These are the building blocks for a good life: a quality education that leads to a stable job, enough income to support a family through retirement and good health. It takes everyone working together. Because underneath everything we are, underneath everything we do, we are all connected, interdependent, united. And when we reach out a hand to one, we influence the condition of all. We all win when a child succeeds in school, when a family becomes financially stable, when people have good health. We all LIVE UNITED.