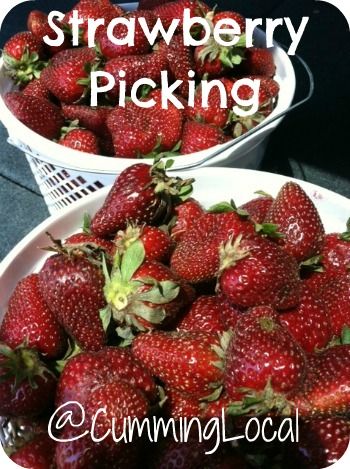 Update:  The 2014 Strawberry Season is coming to a close (it's been a tough strawberry season), be sure to check the Warbington Farms Facebook Page for most current information.
Strawberry Picking in Forsyth County at Warbington Farms 2014
Looking for a good place to pick stawberries in Georgia?  It's time for the 2014 Strawberry picking season in Forsyth County!  We're super lucky to have a strawberry farm right in Cumming GA & Forsyth County – Warbington Farms!   I must admit I absolutely LOVE fresh strawberries so this time of year always makes me happy.
Warbington Farms is a U-Pick farm. If you're on a time crunch or just don't feel like picking your own, you can also purchase previously picked strawberries (when available) at the same price. And sometimes even cheaper – last  year, I snagged some for $11/ gallon because they had been picked the previous day.
While you're there, let the kids take advantage of some Farm Fun including hay rides, inflatable slide & petting zoo.  Activities and fees vary depending on the day.  Click here for more details.
Personal Tips:
1. It's never a bad idea to call ahead or check their Facebook page to make sure they still have plenty to u-pick … especially if you're driving from a big distance.  Farming isn't an exact science after all!
2. Check out their other farm produce while you're there – In the past, I have snagged some farm-raised eggs for a great price!
3.  Buy a lot – they freeze great!
4.  And then be ready for all those strawberries!  You might want some new recipes, check out our "Berry Recipe" Board on Pinterest for a few ideas.
More Information:
2014 Season
Open beginning Friday, May 2nd from 9am to 1pm for Strawberry picking.
Regular hours for the 2014 Season begins Saturday, May 3rd
Mondays:  closed
Tuesdays through Saturdays:  9am to 5pm
Sundays:  1pm to 5pm
PRICING:
$12 U-pick Gallon, $14 pre-pick (pre-pick orders begin Tuesday, May 6th)
FUN PARK:
Open same hours as strawberry picking.
Fun Park includes hayride, corn-crib, petting zoo, slides, tire yard, playground & unlimited fun)
Fun Park Admission Saturday & Sunday:  $8 kids, $5 adults
Fun Park Admission Tuesdsay – Friday:  $3 adults, $5 kids *no hayride during week
Warbington Farms
5555 Crow Road
Cumming, GA 30041
Phone: 770.380.2920
770.380.2920
Warbington Farms Online | Warbington Farms on Facebook
 
Note:  To reiterate, it's always a good idea to check with Warbington Farms (on facebook or by phone) for the latest updates.  Strawberries may be unavailable for u-pick if supply is low.