Stone Mountain Park
This is a guest blog post from Mary Paige, a good friend of Cumming Local. Mary Paige is married to Ben and they have two children – Alex (age 7) and Addison (age 4). They recently visited Stone Mountain Park for the day and I asked her to share their experience with us!
We enjoyed a fun family afternoon and evening at Stone Mountain Park! We haven't been in ages, and our children had never been to see the laser show, so we thought a trip was in order! We bought our tickets online and, since we knew we were traveling from out of town and would be staying late, decided to purchase the Tickets + Meal option. We even noticed Stone Mountain running a flash sale and some specials on Groupon, so definitely check out their website and Groupon before you go.


After first entering the park, our children's attention was immediately captured by SKYHIKE, so that was our first stop. Our youngest is 4, and she was just shy of being tall enough to complete the 12 ft, 24 ft. or 40 ft. course, but she was still able to complete her own ropes course connected to SKYHIKE at Camp Highland Outpost. Both our 7 year old and 4 year old enjoyed challenging their inner daredevil and completing the ropes courses! This was, by far, both of their favorite events for the day!
After completing SKYHIKE and Camp Highland Outpost, we headed to catch the train on the Scenic Railroad. Both of our children enjoyed the 1940s train engine and the almost five mile ride around the mountain. Most of the small jokes that the tour guide made were over their heads, as well as the slap stick comedy that followed on the one stop on the railroad, as a bank robber tried to escape the sheriff and his deputy, but riding on the train was fun for them both!
We were all ready to cool off and enjoyed some 4D Fun with Yogi Bear and Friends. The movie was what you would expect from Yogi Bear and Boo-Boo, but the kids loved the splashes of water, vibrations, and gusts of air that they experienced during this 4D film.
After that, it was up to the top of Stone Mountain via the Summit Skyride. After a short wait, the cable car wisked us to the top of Stone Mountain where we enjoyed beautiful views of the Atlanta Skyline, Sawnee and Kennesaw Mountains, and even were able to watch an approaching rain storm. As we loaded the cable car to come back down, Stone Mountain Park did loose power throughout the park, prompting them to unload the cable car. As the power ended up being out for 2 1/2 hours, we did opt to walk down the mountain. Our kids were excited and thought it was a big adventure. The hike down the mountain took about 30 minutes, and our 7 year old and 4 year old were able to handle it with no problems. Once we reached the bottom, a shuttle was waiting to take us back to the main entrance of the park, where we joined friends on the lawn and prepared for the Laser Show. While the Laser Show hasn't changed much over the years, it was still a fun experience for all of us, and the kids enjoyed every minute of it.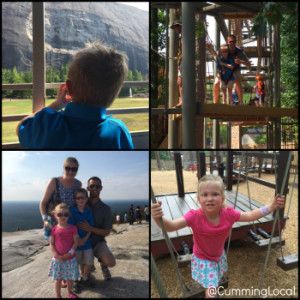 Since the power was out and the restaurants were not open for us to redeem our meals, Stone Mountain graciously offered us a free return ticket to use any time within the next twelve months that will include passes to the attractions as well as a free meal voucher for each of us. We can't wait to go back and use the passes to enjoy more of the activities that we were not able to experience on our last visit.
Learn More about Stone Mountain Park: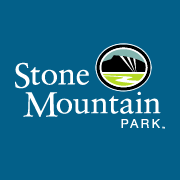 Stone Mountain Park is Georgia's most popular attraction and features a wide variety of family activities. Located on 3,200 acres of natural beauty, adventure awaits as you discover interactive family friendly attractions and many natural and historical sights.

Connect with Stone Mountain Park online:
Facebook | Twitter | Website