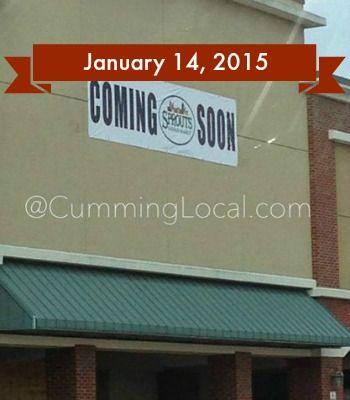 SPROUTS CUMMING GA STORE OPENING JANUARY 14
Doors swing open at 7 a.m. on January 14
WHAT: Sprouts Farmers Market, one of the fastest growing retailers in the country, will open its first store in Cumming on Wednesday, January 14 at 7 a.m. This is the 5th Sprouts store in Georgia.
Sprouts is a healthy grocery store offering fresh, natural and organic foods at great prices. We offer a complete shopping experience that includes fresh produce, bulk foods, vitamins and supplements, packaged groceries, meat and seafood, baked goods, dairy products, frozen foods, natural body care and household items catering to consumers' growing interest in health and wellness. Headquartered in Phoenix, Arizona, Sprouts employs more than 17,000 team members and operates more than 190 stores in ten states. For more information, visit www.sprouts.com or @sproutsfm on Twitter.
WHEN: Wednesday, January 14, at 7 a.m.
WHERE: 530 Lakeland Plaza, Suite B
WHY: Sprouts will host a ribbon-cutting ceremony to celebrate the new 31,448 square foot store. The public is invited to join the festivities, tour the store and shop for their favorite healthy grocery items.
Special events and giveaways include:
Delicious muffin and coffee samples will be served to everyone in line before the doors open.
The first 200 shoppers in line will receive 20 percent off their initial total purchase.
Upon checkout, every 15th shopper will receive a coupon book featuring Sprouts savings.
One dollar deals throughout the store in addition to Sprouts' everyday great values.
Every customer will receive one free reusable bag with purchase.
The Grand Opening celebration continues:
Saturday, January 17
The first 200 customers to make a purchase will receive a coupon booklet for five free sandwiches.
Sunday, January 18
Upon checkout, every 15th customer will receive a $5 coupon for a purchase of more than $15 the following week.