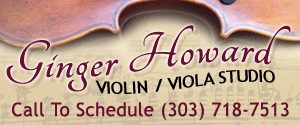 Cumming Local is thankful for our advertising partnership with Ginger Howard Violin / Viola Studio. We are excited to introduce you to this option for violin & viola lessons in Cumming, GA.  Make sure you use the links and contact information provided to follow up with Ginger and as always, be sure to mention you heard about them through Cumming Local!
Sponsor Spotlight:  Ginger Howard Violin / Viola Lessons in Cumming GA



We are often asked about places to take music lessons in Cumming & Forsyth County so I'm always happy when we have an answer!  Ginger Howard provides Violin / Viola Lessons from her in-home studio in Cumming GA – just off Bethelview Hwy.
Ginger has been playing and performing since age 11.  She started learning in the public school system in Kansas.  She has played with Fort Hays State University and currently plays with The Main Street Symphony Orchestra.  She herself have taken lessons from many different teachers in many different areas of the county:  Kansas, California and here in Georgia.  This has allowed her to take all the best methods and ideas and use them in her own studio.
I believe every student is different and so the techniques I use to teach one student may differ from how I teach another student.  I do not believe one method is better than another.
Her studio concentrates not only on playing, theory and history, but also tension free playing.  Ginger admits the violin & viola can be akward to hold and play for new students so she works heavily with learning correct technique and tension free playing.  Learning correct posture, holds and playing techniques helps keep the student from injuring their neck, back or hands.
Ginger will use many different methods to teach her students, beginners through advanced, and uses books such as Suzuki, Essentials for Strings 2000, Mark O'Conner, All for Strings, and Wohlfahrt, just to name a few.
She has been advertising with Cumming Local for a few months and already has several of our readers as her current students.  But space is still available for lessons!
Whether it's a new hobby or time to brush up on an old one, consider Ginger Howard for your child's next Violin / Viola Lessons! 
Connect with Ginger Howard Violin / Viola Lessons:
In-Home Studio in Cumming GA
Phone: 303-718-7513
Email:  ginger@2vstudio.com
Like Ginger Howard Violin / Viola on Facebook