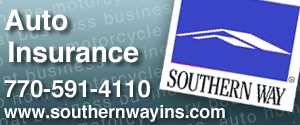 Southern Way Insurance
Earlier this year, my husband was on a mission to update insurance policies for our house and automobiles.  We had been with the same company for about ten years.  And while we didn't have a major compliant or issue to cause the change, we knew that we were simply another number to this large & big-box insurance carrier.
The main mission at Cumming Local is to introduce you to as many locally owned & operated businesses as possible.  And in the process, I've taken this mission to heart for my own family by shopping locally more & more.  So it was only natural to start looking close to home for our new insurance quotes too.
We began working with Craig Crawford at Southern Way Insurance.  Craig & his family live in Forsyth County (actually in our neighborhood!) & he knows what's going on in our hometown.  He was able to get started on our quotes very quickly after he listened to our needs & learned more about what we were looking to insure.  In the end, he was sitting down at our kitchen table as we signed paperwork for our new coverage – that was both perfect for our needs and at a price that was better than we had been previously paying.
Have you reviewed your different insurance policies recently?

As an independent insurance agency, relationships are key – both with their Clients & with the Insurance Carriers that Southern Way represents.  Since 1990, they have worked hard to achieve prominent positions with those insurance companies. And these long-term relationships enable Southern Way to better serve their clients, even allowing them to attain coverage and deliver services that aren't readily available elsewhere.
Southern Way provides the following coverage:
Home Insurance
Auto Insurance
Business Insurance
Motorcycle, RV, & Boat Insurance
and a variety of others too
But beyond providing coverage and competitive rates, Craig & the Southern Way team's primary goal is to be your trusted advisor.  If you're not sure where to start, what type of coverage you really need, or what additional valuables should be covered, the Southern Way team will guide you along in the process.
Ready for Your Complimentary Quote:
You can always use their Online Quote Form (simply select the coverage your looking to quote from the options on the left side), but why not take advantage of their personal, one-on-one help and connect with the Southern Way team today!


Connect with Southern Way:
Southern Way Online |  Southern Way on Facebook
Phone:  770.591.4110
{Photo Source 1, 2, 3}