The following is a Sponsored Post, written by a current Primrose Steeplechase Parent and Mother in Cumming, GA.  We're thankful to have Primrose Steeplechase as a Supporter of Cumming Local and I know many families are thankful to have the Steeplechase location in our area.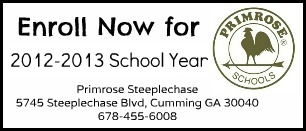 Are you looking for a wonderful place for your child to engage with others in a fun learning environment?   With the right tools and resources, your child can excel academically as well as socially in the right environment with the right foundation.
The Primrose motto is:  With the Right Foundation, Anything is Possible.    Through their program they've discovered how to have balance between playing and exploring and talking and listening.  The philosophy is Balanced Learning.   With the right amount of balance, it helps promote and support children's learning in many ways through listening, seeing, hearing, touching and playing.   The program was specially designed by Early Childhood Experts.   Primrose has been around for more than 25 years and along with the children that attend Primrose, they also take the time to ensure they have the right teachers and training in place.
The dedicated and professional staff is committed to helping your child excel in all areas of their life.   Each member of their staff is highly trained and classrooms are monitored continually to ensure high quality service to your child.   Primrose also strives to keep classrooms at a minimum to be able to give your child the one on one attention they deserve.   The low teacher to student ratio also only enhances your child's learning experience.
Aside from maintaining the highest standards in learning programs, all staff members are also trained on safety and security for your child.  All staff members receive training in CPR, first aid and fire safety.   Each school also has a Safe School Plan.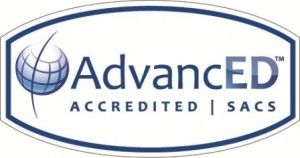 As Primrose strives for perfection for your child on a daily basis, they've received accreditation by AdvancED, the parent organization of the divisions SASC CASI and NCA CASI.  This accreditation is the gold standard in continued dedication to early childhood development for your child.   It's not easy to be awarded this prestigious accreditation, however, with the continued learning of the staff and programs for your child, Primrose has achieved this honor.   Once accredited, Primrose works hard to maintain their accreditation through their continuous desire to achieve great goals with you and your child.
As a parent whose children have been attending the Primrose Steeplechase for the past 7 years, I cannot imagine any other place I feel confident and happy about where my children are during the day.   The Primrose staff as well as the other parents and children who attend this Primrose have become our second family.
Additional Testimonials:
Want to hear what other families think about Primrose Steeplechase?  Click here for additional family testimonials.
Now Enrolling:
Primrose Steeplechase is now enrolling for the 2012 – 2013 School Year and would be happy to provide your family with a tour & more information about the programs available.
Connect with Primrose Steeplechase:
5745 Steeplechase Blvd.
Cumming, GA 30040
Phone:  678.455.6008
Primrose Steeplechase Online
Like Primrose Steeplechase on Facebook