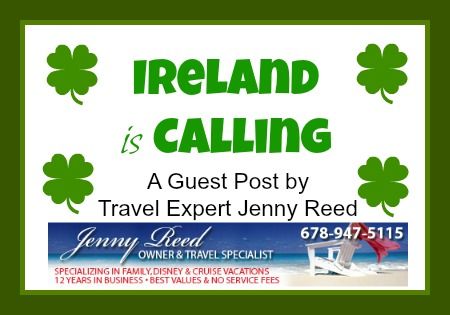 Cumming Local is thankful for our advertising partnership with Jenny Reed – Owner & Travel Specialist. She's already helped several of our readers find their perfect vacation and hopefully you'll be next!  Make sure you use the links and contact information provided to follow up with Jenny and as always, be sure to mention you heard about them through Cumming Local!
The following article shares information about a special service Jenny is offering – because … Ireland is Calling!

Sponsor Spotlight:  Ireland is Calling
Ireland is Calling

May the road rise to meet you,
may the wind be ever at your back.
May the sun shine warm upon your face,
and the rains fall soft upon your fields.
And until we meet again,
may God hold you in the palm of his hand.

—Irish Blessing
Rolling green hills, historic castles, moving music and a language that is sweet to the ear – all bring thoughts of Ireland.  The Emerald Isle is the perfect place to visit.   It is a land of its own, of fairy tales and famous battles, of romance and of tales of bravery.
The island is steeped in history and lore.  Here are a few interesting and fascinating facts about this island of beauty:
Ireland is the only country in the world which has a musical instrument – the harp – as their national symbol. The oldest known harp in existence is housed in Trinity College, Dublin. It dates back from at least 1300.
Ireland is the third largest island in Europe and the twentieth largest in the world.
Ireland is a snake-free island. Due to its isolation from the European mainland, Ireland lacks several species common elsewhere in Europe, such as moles, weasels, polecats or roe deer
The first Irish Constitution was signed at Dublin's Shelbourne Hotel.
There are no postal or ZIP codes in Ireland outside of Dublin and Cork city.  Ireland is unique in that it is the only country that has townlands, the smallest sections of 'territory' in rural areas. Townlands, not rural route numbers, are used in rural addresses.
James Joyce once described Guinness stout as "the wine of Ireland."
The ancestral language of Irish people is Irish Gaelic.  Today  1.6 million people claim a self-reported competence in Irish, but only 380,000 fluent speakers remain.
One of the most popular radio shows in rural Ireland is still the daily broadcast of local obituaries.
The Newgrange passage tomb in County Meath was constructed around 3200 BC, making it more than 600 years older than the Giza Pyramids in Egypt, and 1,000 years older than Stonehenge
Halloween traces back its origins to the Gaelic festival of Samhain, a harvest festival held on 31 October to mark the end of summer. Samhain became associated with All Saints (1 November) from the early Middle Ages and the two progressively merged over the centuries, creating Halloween.

Dream of visiting Ireland?  Taking a tour of the island is ideal.   From vibrant and history-filled Dublin, across rolling green hills to the dramatic coast, experience all of the charms of Ireland on a tour of the Emerald Isle. Live like royalty during an overnight stay on the grounds of a castle. Visit the new House of Waterford Crystal factory. See the Atlantic from the stunning 700-foot Cliffs of Moher. Experience the world-famous beauty of the Ring of Kerry. Have tea and scones at a working farm. See beautiful Killarney from your seat on an Irish jaunting car. Journey to historic Blarney Castle, lean back and kiss its famous stone!
Want to learn more? 
Join me for a free webinar on the topic on December 10, 2013 from 6 pm to 6:30 pm for a tour scheduled for September 9-18, 2014.
Click here to Reserve your Online Presentation seat now
Click here to Learn More Information on the Tour

Connect with Jenny:
Jenny Reed – 678-947-5115
Owner and Travel Specialist – Over 13 years
Cruise Planners – An American Express Travel Representative
Voted 2013 American Express Travel Insider – Caribbean Cruises
Planning cruises and land vacations worldwide — No service fees
Visit Our Cruise Planner Online   |  Like Our Cruise Planner on Facebook