We're excited to spotlight one of our website sponsors – Ginger Howard and her Violin / Viola Studio.  Be sure to touch base with Ginger about how she can help you or someone in your family with their lessons this year!
Sponsor Spotlight:  Ginger Howard Violin / Viola Studio



Ginger Howard offers private violin & viola lessons to the Cumming & Forsyth County area and to several of our Cumming Local families! She recently discussed the differences in lessons depending on age. Take a look at how different the lessons can be in the article below.
What does a lesson look like for a young child or a beginner?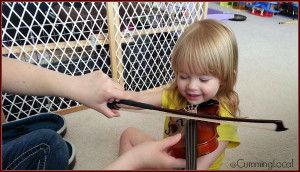 For a young child or beginner a lesson really depends on how they learn. Some students are very quick learners and some take a little more time. In the beginning, I watch each student and access what they need.  For example: let's say that I have two 7 year old beginner students; one student catches onto school subjects easily, where as, the other student sometimes needs a little more explanation. I may start the first student in The Essentials for Strings Series right away, where as I may start the second student in the basic Suzuki I Can Read Music Book. Eventually, the second student will enter The Essentials for Strings Series when I feel they are understanding the basics of reading music and playing. I have also used other books to help students who have a hard time understanding the reading of sheet music. As soon as I feel we have a basic understanding of technique and reading, I will bring in music that they request to learn.
How would you do a lesson for a preteen or teen?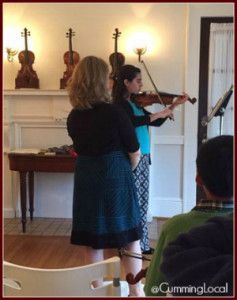 This age of student tends to catch on very quickly. Usually we start in The Essentials for Strings Series, but then very quickly move into the Suzuki Method Books. Once I feel we are doing well understanding basics of playing (and possible a little bit more) we move into the Wohlfahrt Etude Books. Also, other supplemental material is used when starting shifting and other techniques along with music they request to learn.
How would a lesson run for an adult? 


This all depends on whether the adult has played before. I usually mix a bit of both of what I do for a young child and a pre-teen/teen. I also center their learning around what they would like to learn such as for example, classical music versus Celtic Fiddle.
What is something you teach all students?
All students will be schooled in theory, scales and some history. The students ability to learn will gear my decision on what materials I use. Materials include: theory books, YouTube, magazine articles, listening to music while working on theory, etc. Also, I always try to incorporate basic repertoire; such as: scales, Suzuki Method Book, Wohlfahrt Etudes, Essentials for Strings, etc., but I do this by watching each student and observing what they need.
"My wife and I know that if it wasn't because of Ginger being so sensitive, patient, and more importantly knowledgeable our daughter Mina would not have been as excited as she is now about learning the violin. Ginger is always so kind and generous with her time. And her scheduling has enabled us to work with each other as a team. We are so thankful and I know Mina will never forget her great violin teacher, thank you Ginger for being so genuine and being such a wonderful teacher to her." -Fara and Morteza
Whether you want to learn a new skill or fine tune a skill you already have, consider Ginger Howard for your next Violin / Viola Lessons! 
"We are glad that we found Ms. Ginger's violin studio. We plan to have Ethan learn music from Ms. Ginger for a long time. We know that she is a great teacher who loves to teach children and cares about their interests. We also know that she wants every single one of her students to succeed!" -Rachel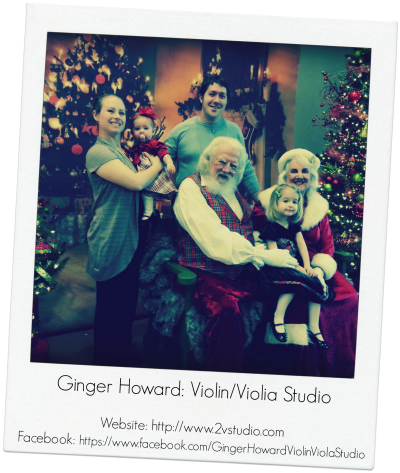 Connect with Ginger Howard Violin / Viola Lessons:

In-Home Studio in Cumming GA
Phone: 303-718-7513
Email:  ginger@2vstudio.com

Facebook | Website




"Ginger Howard has been my instructor for over a year, and I would highly recommend her.  For me at age 66, I can state that her teaching style is to approach her students with praise by taking time to point out the things that are done well and always saying not to be so hard on ourselves, but also to encourage us to improve.  Sometimes she does this by selecting a small section of a piece we are trying to play and tells us to just concentrate on that.  I love her calmness, patience, and determination to help me improve, and I always leave my lesson looking forward to the next one." -Kathy