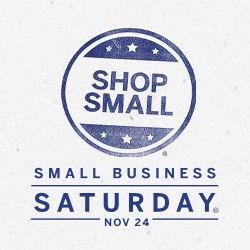 Small Business Saturday – Shopping in Forsyth County
I love that shopping "small" has become such a popular & dare I say "trendy" thing to do, but that it has its own day and cute title!  But that's only because I love ANY day that focuses on supporting small businesses!
But I do have one burning question about the day that American Express makes such a big push for.  Does anyone else find it ironic that American Express is the one  making the big "Small Business" push, when their card is so often times NOT accepted at small businesses?!?  And even funnier because I'm usually told, "we accept everything except American Express … their fees are just too high".  There is something about that that always seems odd to me.  Anyhoo.
Moving right along …
A few things to note:
American Express $25 Credit – If you happen to be an AMEX cardholder, make sure you register your card and learn how to get a $25 Statement Credit.  That would be awesome!
Small Business Saturday Shopping Deals in Forsyth County – We've got a round-up of stores offering special deals & events in Forsyth County.  We'll continue to add to the list as we find new information, so keep checking back.
Cumming Local Savings Card – If you haven't heard, we designed a card to help you save more at popular Forsyth County businesses every time you use the Savings Card.  We're announcing a BIG After-Thanksgiving Sale, so stay tuned for that information!
May this day just be a friendly remind to continue to Shop Local, Eat Local & Play Local … like we encourage every other day of the year!!