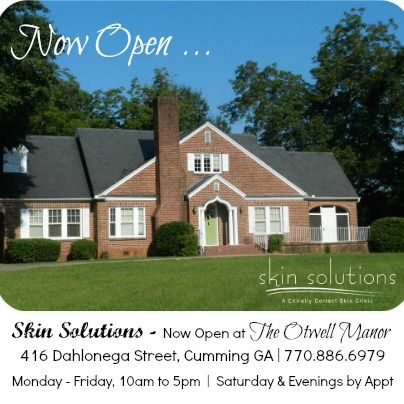 Cumming Local is thankful for our advertising partnership with Skin Solutions Skincare Studio. We have the opportunity to share some exciting news about Skin Solutions in Cumming GA with you!  Make sure you use the links and contact information provided to follow up with Skin Solutions, definitely Like Skin Solutions on Facebook to stay in the loop – and as always, be sure to tell them you heard about them through Cumming Local!
Skin Solutions in Cumming GA now at The Otwell Manor
We're so excited for Skin Solutions Skincare Studio as they announce their move to The Otwell Manor!
Skin Solutions (a Chirally Correct Skincare Clinic) has been in business since 2006.  The majority of that time has been spent in downtown Cumming at The Intown Office Center.  Their move to The Otwell Manor is just 1/4 mile from that location and allows them to expand to better serve us!
This historic home is absolutely gorgeous and beginning today (Wednesday, September 4, 2013)  it will be filled with the lovely people of Skin Solutions and the wonderful services they bring!
How do I know their services are wonderful?  Because I've been getting facials and enzyme peels for about seven years now.  And in full disclosure, I'm actually family!  Here's a cool fact if you haven't heard before – Skin Solutions is owned by my sister-in-law, Rebekah.  So, I know for a fact that she launched this business out of a true passion for skincare.  She only brings in products & services that she believes in – ones that will make you look & feel your very best without putting chemicals, parabens & all that yucky stuff back into your skin!

They offer all-natural skincare products & make-up and provide corrective, medical-grade skincare treatments without fillers, irritants, chemicals & preservatives.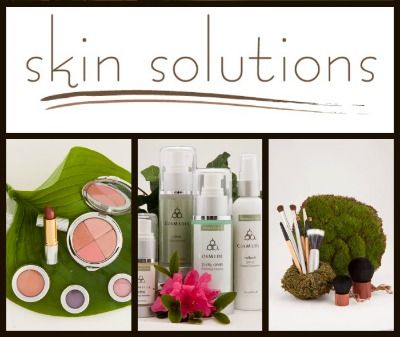 Along with the new space, here are just a few other new things happening:
Yoga – YogaSelah will launch inside the The Otwell Manor – relax with a facial & yoga in the same trip!
Couples Massage – Book a session with your significant other!
The Four-Handed Massage – Two therapists will treat you to relaxation at its finest!
The Oxygen Facial – The latest facial service added to the menu.
Expanded / New Hours – Skin Solutions will now be open Monday – Friday 10am to 5pm and Saturday by Appointment
But much will stay the same also:
The new location is on the same road as they've always been (just 1/4 mile away).
The same great team of Aestheticians, Massage Therapist, and Staff will be there to help you.
The same great relaxing & corrective services that Skin Solutions is known for will still be on the Menu of Services.
The same great product line – for skincare & make-up will definitely make the move too!
Whether you have visited Skin Solutions in the past or not, you'll love the new environment and everything they have to offer.  New clients always receive a Complimentary Skincare Consultation so you can kick start your new skincare regime off right!
So don't wait – take advantage of your Complimentary Consultation and this new, beautiful setting by scheduling your first appointment today!  And be sure to tell Rebekah we said hello!!
Connect with Skin Solutions:
Skin Solutions
at The Otwell Manor
416 Dahlonega Hwy
Cumming GA 30040
Phone:  770.886.6979
Visit Online  |  Shop Online  |  Like on Facebook