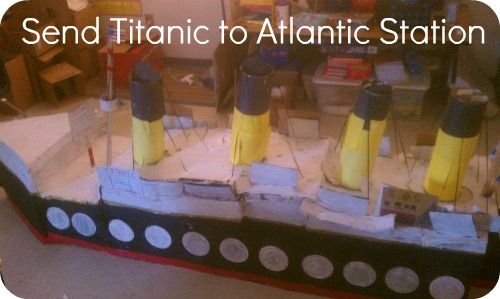 Help send Mr.Walkup's Class' Titanic 2 the Titanic exhibit @ Atlantic Station!
Mr.Walkup's class, at Vickery Creek Elementary, just finished a culminating project where they built the Titanic!
Made up mostly out of materials and scraps from the school cafeteria and their classroom, the class has created the Titanic!
And now they're on a mission!
The goal is to get the project displayed at the Titanic exhibit at Atlantic Station!
Help Mr. Walkup's 3rd grade students get their project to Atlantic Station.
Here's how you can help:
1.  Like the class Facebook Page Send Titanic to Atlantic Station.
2.  Post your support to "Send the Titanic to Atlantic Station" by reaching out to the Titanic Exhibit:
To learn more about their project & see additional photos, click here.