This article is written by contributing author, Ashley Jansen. We are so thankful for the time she took to write this review for us about Santa's Fantastical!
My family went to Santa's Fantastical on December 7.  If you went to Candytopia this is very similar, but just holiday-themed. It is a timed entry – our tickets were at 4:45 and we spent about an hour and half exploring.  (We were walking to our cars at 6:15). Ultimately it is an event that has a lot of great photo opportunities, not necessarily fun activities for the kids to actually do. A lot of the event was a bit too young for my 12-year-old.  (As a reminder, I have 3 boys aged 12, 8, & 5).
There is a Santa that is free and the pictures were actually affordable to purchase.  It was $7.95 per sheet of photos no matter the size. I ended up buying the picture of our entire family on Santa's lap.  They also allowed us to use our own cameras, which is great, so I didn't purchase the one of the boys.
Event Space
About the event space:  You start in the forest which was neat to walk through and take some pictures like this one.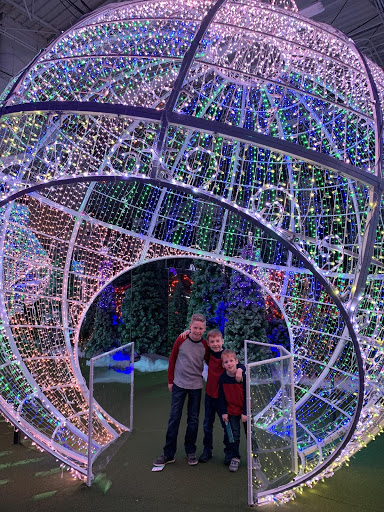 Then it opens up into the main area.  To the right is a stage where they do dance/singing shows about every 15-20 minutes.  The dances were okay, but not great. There were 5 dancers and they were very up close, which just felt weird.  The boys wanted to move on.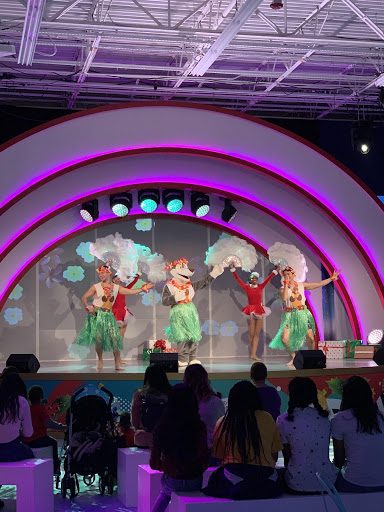 A Visit To See Santa
We went to see Santa who was very friendly and the setup was very nice – I love big tall chairs like this one.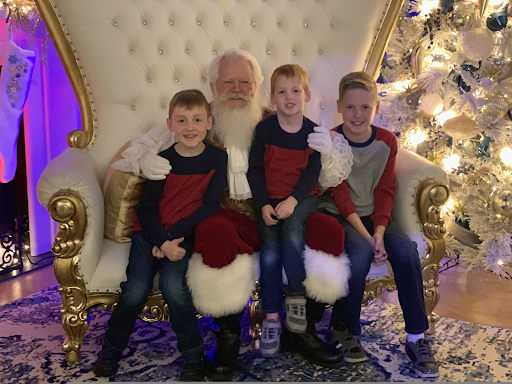 After seeing Santa you can crawl into Santa's sleigh and design your own sleigh that gets emailed to you.  Next-door is the toy shop – you color your choice of a toy sheet and then they scan it and you can watch it bounce on a large screen.
Additional Activities
On your way to the 'park' there is a face painting station.  My boys have never liked face paint, but the kids walking around with face paint looked very good.  There are three different levels that go up in cost ranging from $4.95 to $17.95. The cheapest is just a decal that you put on with water.  The next option is face painting. The most expensive option includes face painting, glitter flair, an accessory, and a red carpet photoshoot.  They give you a photo strip with 4 of the pictures.
The Park
You move into the 'park', which has a smaller slide, and outside games (like corn hole and a large Connect 4).   There is a virtual snowball fight where you throw white balls to a screen with snowmen that you are trying to make fall apart.  It was a neat concept, but not at all accurate which had my boys lose interest quickly.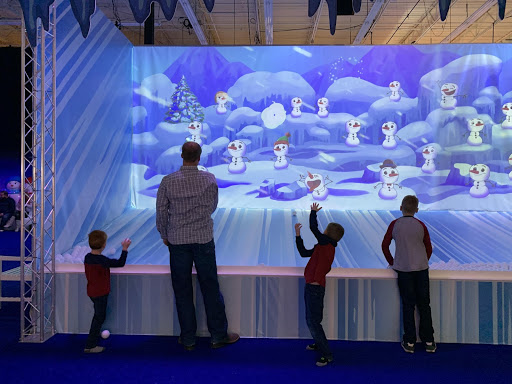 The final room was filled with lots of fun and creative backgrounds that you could take your picture in front of.  I don't want to spoil all of them so I'll just post one here.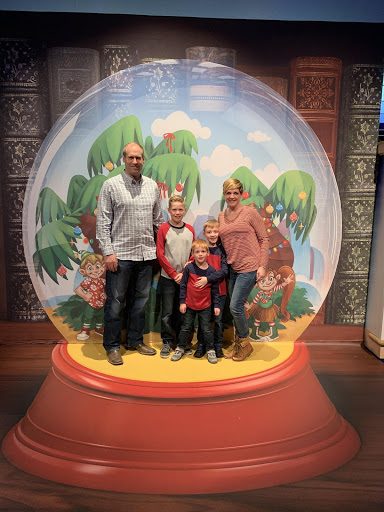 There was Mrs. Claus's sweet shop where you could purchase drinks and snacks, but we did not purchase anything.  Another part is an adult-only bar in the middle of the event space. It's called Santa's Secret Stache and they serve seasonal cocktails.  It opens at 7:00 pm each evening and only 21+ are allowed in. Honestly, this seemed odd to me to have in the middle of this event.
A Few Tips If You Decide To Go:
Purchase your tickets in advance with a designated time and make sure to select the free Meet Santa pass.

It is a cashless event – everything you purchase has to be on a credit card. So don't worry about bringing cash.

Make sure your phone and/or camera is charged and ready.
There is a family four-pack for $99 available Monday thru Thursday.  Friday through Sunday it is Standard ticket pricing: $30 per adult, $25 per child, and under 3 is free.  So for our family, we spent $160 on tickets (including tax and processing fee). They have also added Peak pricing which is $5 more per ticket of the Standard pricing.  In my opinion, I would say the tickets are expensive and may not be worth what you get in return. Unless you can make it work on a weekday then the discounted value tickets would be worth it.
Address:  1155 Mount Vernon Hwy. Ste 300, Atlanta, GA  30338
Connect Online: Website | Instagram | Facebook
---
More About Ashley Jansen: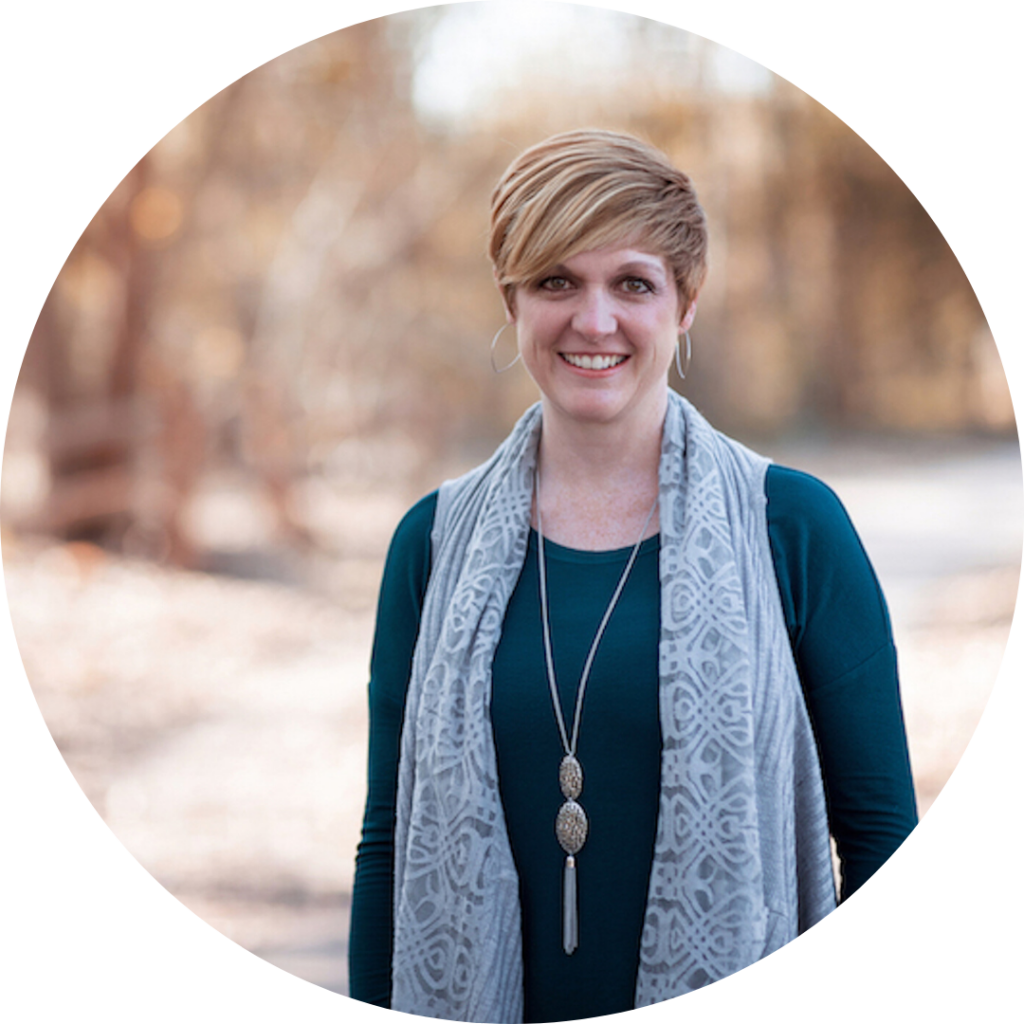 Ashley Jansen is a wife of 17 years to Mark and a mom to three boys, Hamilton (12), Luke (8), and Garrett (5). Originally from Texas, she has lived in Forsyth County for the last 17 years. She graduated from Baylor University with a BBA degree in 2001 (before Chip & Joanna Gaines put Waco on the map). She loves Mexican food, watching football and baseball, reading a good book, making Excel spreadsheets, and prefers Diet Dr. Pepper over Diet Coke. She was a teacher at Forsyth Central High School for 3 years, on staff with North Point Ministries, Inc. for 7 years, and a stay-at-home-mom for another 10 years. She recently started working full-time at Browns Bridge Church where she and her husband are also active members serving as adult small group leaders, 2to1 premarital mentors, and GroupLaunch connectors. She serves on the Advisory Team of Titus2 Mentoring Women. She is a breast cancer survivor but still prefers purple over pink.
Connect with Ashley Online: Facebook | Instagram
To read more about our contributing writers, click here.