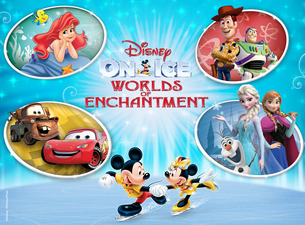 An Interview with Rhys Anderson
Last week I had the opportunity to interview Disney on Ice performer, Rhys Anderson. He skates as Prince Hans, the evil villain in the popular production of Frozen. My kids (ages 4 and 7) helped me come up with the interview questions to ask him. I hope you enjoy!
Because I know you were curious (like me) – his name is pronounced like "Reese." And he has the nickname is "Reese's Pieces."
Also, just as a reminder, Disney on Ice presents Worlds of Enchantment will be at Infinite Energy Arena this week! Click here to purchase tickets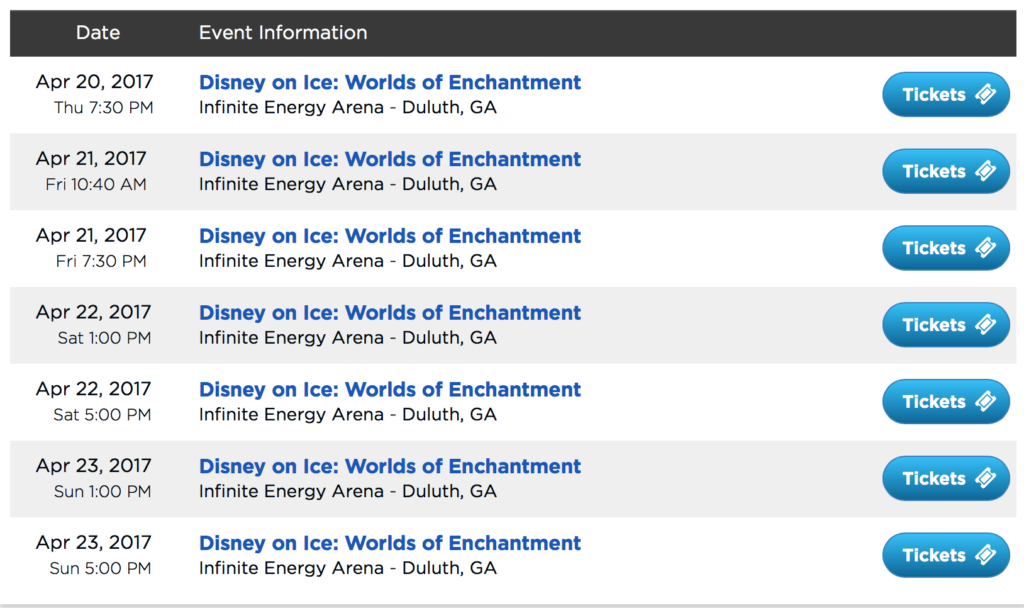 At what age did you begin skating? And share any details about this experience. 
I started ice skating at 4 years old. During my first couple of skating lessons, I cried a lot. I started skating because my sister was taking lessons, and since I was already at the rink watching, my mom signed me up.
Do you have any role models that you look up to?
I have four role models that I look up to. They are Kurt Browning, Elvis Stojko, Alexei Yagudin, my father, and grandfather.
What are some of your interests or hobbies outside of ice skating?
I used to bartend and I think its fun to do flair bar tending. I don't have a signature drink to make. It's more of a performing act with spinning bottles around and pouring drinks creatively. I also enjoy cycling, snowboarding, watching movies, and PC gaming.
How did you become part of the Disney on Ice Show?
I just decided to send in my audition video online. And I was chosen to be part of Feld Entertainment's Disney on Ice shows. 
What made you decide to audition?
One of my life goals is to bring creative and innovative skating that connects with the audience emotionally. I love to perform for audiences so it just made sense to audition. I knew it would be a great experience and I'd be given an opportunity to travel all over the world!
How do you like performing as Prince Hans?
Because Frozen has been so popular, that has made this a really fun experience. I have enjoyed being Prince Hans in the performance. 
What does a typical day look like for you when you are on tour?
Well, we are in a new city each week. Every city has unique qualities that I get to experience. On show days, the team gets everything ready for the show. That means we will do a dress rehearsal, exercises, practice on the ice, and spend time warming up before the show. 
What is your favorite city that you done a show in so far?
Man, that is a hard question because I've really liked every city I've been to so far. But if I had to choose – I'd say it's a tie between South Africa, England, Manchester, Miami & Vancover. 
What is one message you'd like to share with Cumming Local readers?
Please come out to a show this week!  It will be a great family experience for the parents and kids. Opening night is April 20th at 7:30pm and then we have 6 other showtimes you can get tickets to. Hope to see you there!
More About Rhys Anderson:
Rhys Anderson is from Cobble Hill, B.C., Canada, which is near Victoria, B.C., Canada. At his hometown, he performed at Kerry Park FSC. Rhys has been skating since he was 4 years old. In 2014, he auditioned and join the Disney on Ice team with Feld Entertainment. Here's a fun fact about Rhys – he always puts his left skate on first.

Connect with Disney on Ice online: Website | Facebook | Twitter
About Feld Entertainment: 
Feld Entertainment is the worldwide leader in producing and presenting live touring family entertainment experiences that lift the human spirit and create indelible memories, with 30 million people in attendance at its shows each year. Feld Entertainment's productions have appeared in more than 70 countries on six continents and include Ringling Bros. and Barnum & Bailey®, Feld Motor Sports, Disney On Ice and Disney Live.