Rhea Lana's of Cumming – Fall & Winter Sale is on October 23-27
Have you saved the date for the
Rhea Lana's of Cumming
consignment sale coming up? I certainly have! This is one of my favorite sales because of the quality of items and the size of it. Over the last year, I have gotten to know the owner and operator Tara. And i'm excited to be given the opportunity to share with you some highlights about Rhea Lana's of Cumming. In this article you will learn more about Rhea Lana's, how to connect with them, and more information on being a consignor.
What is Rhea Lana's of Cumming?
Rhea Lana's is a semi-annual (one in spring and one in fall) children's consignment event. They provide families the opportunity to shop for and/or sell their gently used, excellent quality children's clothing, baby equipment, furniture, shoes, toys, maternity clothes and much more. They accept children's clothing in sizes newborn through the largest teen sizes.
Why Register To Be A Consignor?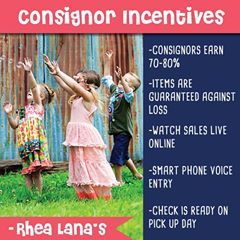 There are so many incentives to signing up as a consignor with
Rhea Lana's of Cumming
. Personally, I feel that these are the top 5 reasons to register as a consignor:
Consignors price their own items and track their sales online, live throughout the sale weekend then received a check for 70% of their sales on the final day (October 28th).
Consignors may pickup any unsold items no the final day or choose to donate them to a local charity.
Rhea Lana's of Cumming guarantees all items against loss or theft.
Rhea Lana's of Cumming now offers a convenient, smart phone entry system that allows you to do voice entry for your items! Click here for more information on the app.
They offer a convenient VIP program for moms who want to consign but don't have time. We will pick-up, prep and price your items for you, and you still receive a check for your sold items.
To find out more incentives to being a consignor, click here.
Fall/Winter Sale Information:
Click here to register as a consignor.
(Consignor pay-day is October 28th)