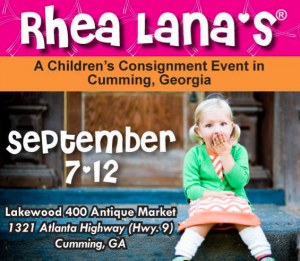 Rhea Lana's Children Consignment Event in Forsyth County
We are excited to announce Rhea Lana's Children Consignment Event  in Forsyth County. The Fall/Winter Sale is coming up next. All the details are below!
When: Saturday, September 7th to September 12th (pre-sale day on September 6th)
Where: Lakewood 400 Antiques Market – 1321 Atlanta Highway (Hwy 9), Cumming
Sale Hours: 
Saturday, Sept 7 10am to 8pm
Sunday, Sept 8 10am to 7pm
Monday, Sept 9 10am to 8pm
Tuesday, Sept 10 10am to 3pm
Wednesday, Sept 11 10am to 8pm – Half price sale
Thursday, Sept 12 10am to 1pm – Half price sale
More information about Rhea Lana:
Rhea Lana's is a semi-annual (one in spring and one in fall) children's consignment event. We provides families the opportunity shop for and/or sell their gently used, excellent quality children's clothing, baby equipment, furniture, shoes, toys, maternity clothes and much much more. Consigners can price their items and track their sales online throughout the sale week and then received a check for 70% of their sales on the final day. They may also pick up their unsold items on the final day or choose to donate them to a local charity. We guarantee all items. These events are very organized, our items are top notch, and we strive to offer a great shopping experience for everyone.
Find Out More about Rhea Lana's Children Consignment:
To find out more you can connect with Rhea Lana on their website, Facebook, or Twitter.