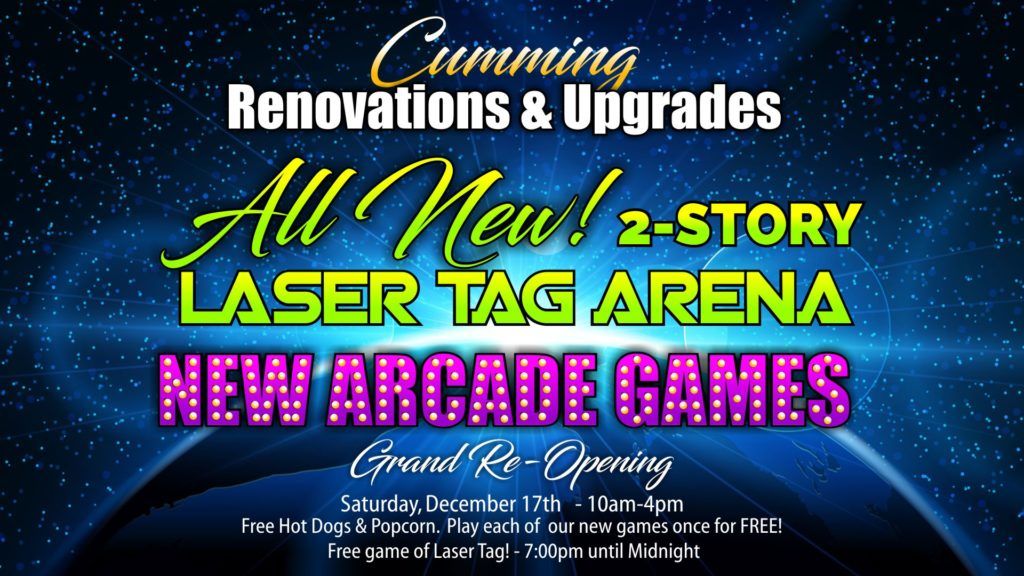 Did you know that the Cumming location of Stars and Strikes was their first location to open? It's true! The Stars and Strikes Cumming Family Entertainment Center opened it's doors in June of 2005. Since then, it has been the go-to place in Forsyth County for family or adult fun. They have everything from bowling to arcade games to laser tag and much more! Stars and Strikes is a perfect location for a birthday party for your children or yourself. Personally, my family loves to go to Stars and Strikes for their 99 cent bowling days. You can find out more about their daily deals by clicking here.
I had the opportunity to speak with Mr. Scott Harris about Stars and Strikes Cumming. He explained how Stars and Strikes has been expanding all over Georgia with now 9 locations and plans to open more in 2017. However, the Cumming location has always been special because it was the first one to open. "We love Cumming GA and we wanted to give back to the community that has supported us," explained Mr. Scott Harris, Marketing Director.
Renovations – Phase One
In the last few months, Stars and Strikes Cumming has been undergoing a major renovation. The renovation will be in two phases. Phase one of the renovation is the Laser Tag Arena & Arcade area. The Laser Tag Arena has been turned into a two-story laser tag experience. Also during the phase one renovation, they have added a ton of new video & redemption games in the arcade!
Some of the new video games are The Walking Dead, Ghost Busters, Grand Piano Keys, Super Bikes & much more!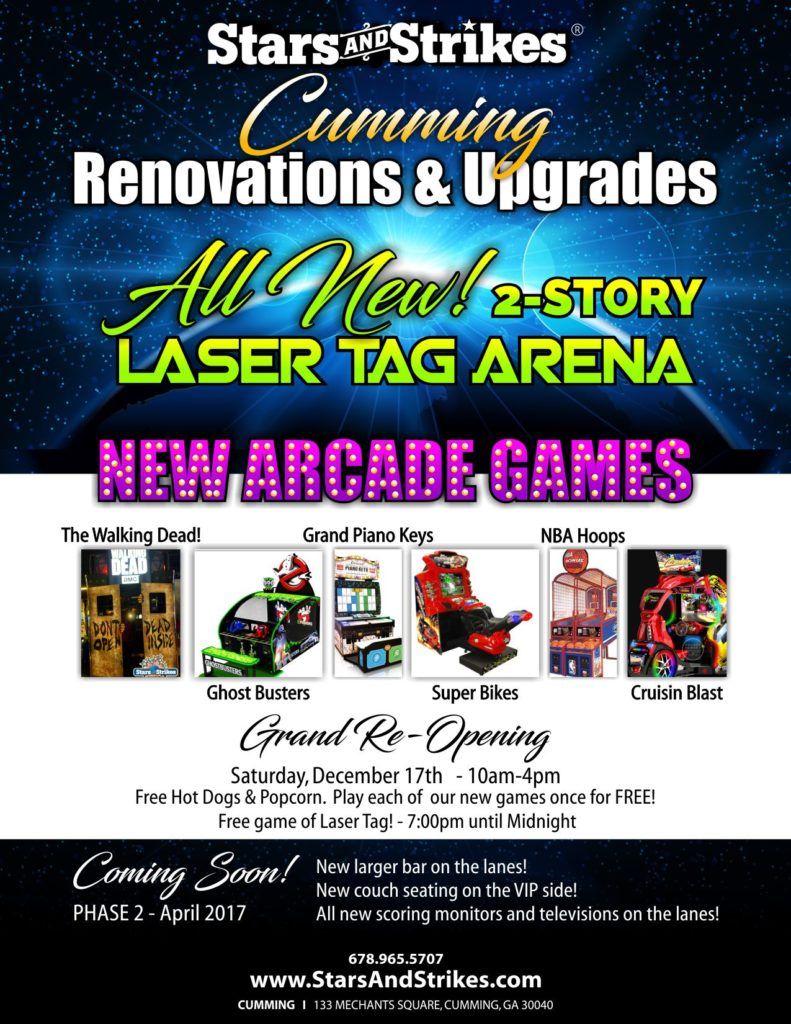 On Saturday, December 17th, they will be celebrating a Grand Re-Opening! From 10am-4pm, Stars and Strikes Cumming will be serving free hot dogs and popcorn. During this time, you will also be able to play each of the new video games once for free. Then from 7pm to midnight, you can experience one free game of laser tag in their new two-story arena!
Renovations – Phase Two
Phase two of the renovations will include a new and larger bar, new couch seating on the VIP side, and all new scoring monitors and TVs on the bowling lanes. This next phase is expected to be completed by Spring 2017.
Make sure to keep checking back on Cumming Local, as we will announce the next event for the revealing of the phase two renovations!
Connect with Stars and Strikes Cumming Online: Website | Facebook