The following is a post from Contributing Writer, Gina Marshall.  Ms. Marshall is a Licensed Interior Designer and owner of Interior Styles in Cumming, GA.
What's your style?
It can be hard to summarize what your tastes are in a few words?  Maybe you're like me and are drawn to many different styles:  Classic traditional, sleek modern style, quaint Country French, romantic Shabby Chic, vintage or sophisticated Hollywood Regency style or new and edgy industrial style and everything else in between.
If your tastes don't fall into just one category, why not just say your style is "eclectic" and have a little bit of this and that all working together to create your own unique style?  You can pull together pieces from different periods and styles, but be sure to take into consideration some basic decorating rules.
The Rules
When it comes to decorating, who makes the rules?  What is right and what is wrong?  I like to tell my clients that there is no wrong way or right way to decorate, rather just good and bad decisions.  Following some basic guidelines to create your unique look can help ensure you aren't making bad decisions.

Balance: Mix it up. Shapes, sizes, colors and texture should all be arrangedto create visual balance within a space. Complementing or contrasting each other for a subtle or dramatic look.  The same goes for the decor – traditional with a touch of modern, Country French with an industrial twist and so on.  The trick is to find the right balance and purpose for each piece.
Emphasis: Create interest. Having everything too similar without any dominate elements will result in a unified look, but can also be uninteresting.  Emphasis can be achieved through large dimensions, contrasting shapes, bright colors or contrasting textures.  Choosing a focal point for each room, and then designing around it is a good way to decide where the emphasis should be within a space.
Rhythm: Having flow. The repetition of a common trait, or decor style is what produces unity and visual rhythm from one room to the next.  The style you choose for your home should be understandable and create a sense of flow throughout.  While you are creating your own eclectic style, keep this in mind so each room does not look disconnected and completely different from the other.
Getting Started
Ok, you know what styles you like, but ask yourself how you want your home to feel.  Relaxed & casual, fun & colorful, sophisticated & fancy and so on.  Once you know the type of atmosphere you want to create for your home you are ready to get started.
Decide what the function is of each room in the house. Does your current furniture arrangement work well in the space?  Are the needs of the room met?  Do you have an architectural feature that is a focal point, or do you need to create one?  Before you purchase any furnishings or begin remodeling, you should have a well thought out plan for each room to avoid costly mistakes.
Begin with a single piece of inspiration, a color that you love, a rug or fabric pattern that you found.  A great way to become inspired is to look through lots of home decor magazines.  Grab a few and start tearing out pages that you like to create an idea folder.  The mixing of different styles is very popular now, so you should be able to find many examples to inspire you.
Look through each room of the house and make a list of all the pieces you want to keep to incorporate into your new design. Are there any pieces that might look better in a different space?  A living room end table as a new bedroom nightstand?  A dresser from a bedroom as a foyer piece?  Do you have an antique piece that might work better if it's restored or painted to look more modern?  Once you know what you have to work with, you can start a list of what you need to fill each room.
Go shopping and see what you can find. Make sure to bring along something to remind you of your original inspiration; a picture, fabric swatch, paint color, anything that can help you stay on track.  Most of all have fun and enjoy the process, it can be a lot of work, but well worth it in the end!
Have an Interior Design question?  Leave a comment on the page below or contact Gina Marshall directly.
Connect with Gina Marshall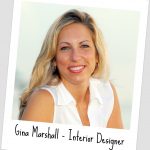 Online – www.InteriorStylesonline.com
Facebook – www.facebook.com/Interior Styles, Inc.
Email –Email Gina@InteriorStylesonline.com
Phone – 770.292.9196