The following is a guest post by Cumming Local Mom Writer, Rachael.
Football Season Snacks


I'm not a huge football fan but boy do I love football season. And It's because of the snacks I make. There is nothing better than cool air, football, and snacks. Those three things seem to lead to a nap for my family J I have put together a top ten list of my favorite snacks.
Let me know what you think!

10. Fruit Pizza
Sugar Cookie dough
Fruit (Personally, I love Strawberries, Bananas, and Blueberries)
Confectioners Sugar
Cream Cheese softened
Directions: Roll out sugar cookie dough like a pizza. Bake according to cookie directions. Once it's cooled cover in sauce (1 c of confectioners sugar and 1 8oz cream cheese) then decorate with the fruit. This is really fun to make with kids!
9.  Creamy Sausage Dip
Cream Cheese
Spicy Sausage
Directions: Mix cream cheese and cooked sausage together. Microwave until all melted together. This is best with tortilla chips!
8. Pizza Bites
Crescent Rolls
Pizza sauce
Pepperoni
Mozzarella Cheese
Directions: Fill crescent rolls with sauce, pepperoni, and cheese. Bake according to crescent roll directions.
7. Phillo pockets
Phillio dough
Creamed spinach
Feta Cheese
Onion, chopped in tiny pieces
Directions: Roll out the phillo dough and fill with creamed spinach, a little feta, and a little onion. Roll up and bake 375 until browned.
6. Chili and Frito Pie
Chili
Fritos
Cheddar Cheese
Directions: Layer fritos, chili, and cheese. Bake at 350 for 15 minutes til hot. Beware this is delicious but messy!
5. Crockpot Velveeta Dip
Velveeta cheese, cut in chunks
Salsa or Rotel
Directions: Throw everything in crock pot and let it melt all together on low. It is best with tortilla chips. The scoops work best J
4. Cheese Ball
Cream Cheese, 8 oz package softened
Ranch dressing, dry mix packet
Cheddar Cheese, thinly shredded
Pecan pieces
Directions: This is best when made the night before.  Mix 1 packet of ranch dressing with the cream cheese. Then mix in the shredded cheddar. Form into a ball and cover with the pecan pieces. Cover and refrigerate overnight. Serve with Ritz crackers.
3. Spinach and Artichoke Dip
1 cup of Mayo
1 cup of Parmesan Cheese
1 can of artichokes quartered
1 package of spinach
Directions: Bake at 375 for 30 minutes. It should be bubbly and browned. Serve with Triskets.
2. Layered Taco Dip
Fat Free Refried Beans or black beans
Salsa
Sliced Avocado
Fat Free Sour Cream (mixed with taco seasoning)
Shredded Cheddar
Olives, sliced
Lettuce, shredded
Directions: Layer all the ingredients and serve cold with tortilla chips. I like serving this with Tortilla scoops
1. Buffalo Chicken Dip
Cream cheese (8 oz. package, softened)
Chicken, shredded and mixed with ¾ of a bottle of buffalo sauce
Mozzarella Cheese
Blue Cheese
Directions: Layer cream cheese, chicken, mozzarella, and then blue cheese. Bake at 375 for 45 minutes. Serve with crackers, bread, and celery.
So … what would you add to the list?
More About Rachael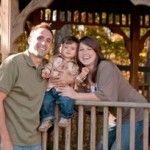 Rachael has been with her husband for 8 years and has a 2-year-old son. She loves to write, spend time with family, and serve others. The most random thing she's ever done was having the dead skin eaten off her feet by fish in Cambodia this past summer.

Follow her blog, Confessions of a Mom on a Tight Rope at http://www.walkupfam.blogspot.com/
This post is linked to Top Ten Tuesday at OhAmanda.