5 Reasons Ponce City Market Makes A Great Date Night
We recently took a trip down to Ponce City Market. It took us about 45-50 minutes to get there from Forsyth County. But boy was it worth the drive. If you've never been – you should totally check it out. We felt like it made a great date night. But you could also go there with your family. Today we've put together the 5 reasons why we think Ponce City Market makes a great date night. Enjoy!
Atmosphere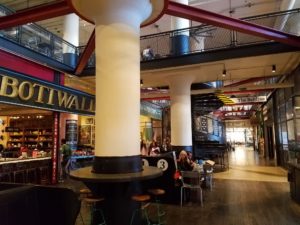 What we enjoyed most about Ponce City Market is the relaxed and open atmosphere. Each store and restaurant are very close in proximity, which makes it more enjoyable and doable if on a date with your significant other. I also love the look of Ponce City Market. It's a very industrial and loft feeling being that it's a renovation of the historic Sears, Roebuck & Co. building. So if you are into historic and architecture then Ponce City Market is a must see!
Convenience:
Ponce City Market is convenient and has parking! When was the last time you used those words to describe something in Atlanta? There are plenty of paid parking spots at the front of Ponce City Market, which makes this an ideal spot and stress free situation when on a date.
Food: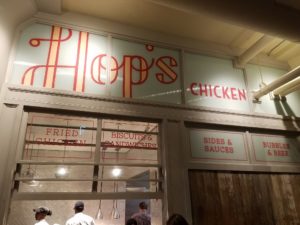 Of course if you are talking about a successful date night, food must be involved in the equation! Ponce City Market has it all. Any craving you are desiring they are sure to have a cuisine to match your taste buds. Each restaurant offers its unique blend of culture and flavors. We highly recommend Hop's Chicken if you are fried chicken fan! It was seriously, some of the crispiest and moistest chicken we've have ever had!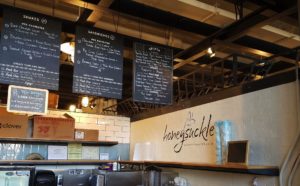 Dessert anyone? Ponce City Market offers tons of choices in this area as well. We tried Saint Germain, a French bakery and gift shop. They offer specialty breads, artisan pastries, macaroons, chocolates, as well as gourmet sandwiches, and French inspired deli items. We also tried their ham and cheese panini and it was fantastic! Also, Honeysuckle Gelato is a MUST TRY on your list for desserts. Their Gelato is to die for and they also offer shakes and sandwiches. We thought this was pretty cool – when you order a shake, it comes in a mason jar. But the best part is that when you are finished you get to keep the mason jar!
There are a variety of other restaurants that we didn't get a chance to check out, so before you head out check here to come up with your game plan of restaurants to try out. If you are the planner type, like us 🙂
BONUS: Malvi (Forsyth County local business) has their delicious marshmallows for sale at Ponce City Market. It was fun to see a local Forsyth County business represented in Atlanta!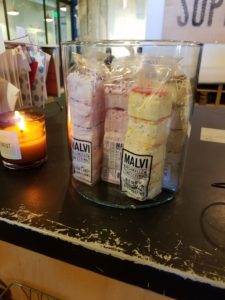 Shopping:
Now if you had a delicious meal you're going to need to walk it off a bit, which makes the shopping experience that much more enjoyable. While inside Ponce City Market, you have two levels of shops. There is also another shopping addition outside this area should you want to venture outside. Shops are fun, trendy, and include some of your favorites as well ones that maybe you haven't heard from before. Regardless each shop provides unique types of items and clothing that are hard to find in your normal department store. So if you want to be wearing something different and stand out in the crowd, check out the variety of shopping they have to offer.
For a full list of shops click here: http://www.poncecitymarket.com/type-directory/shops/
Events:
Looking for entertainment after a good meal, dessert, and shopping? Ponce City Market offers a variety of live events each month. From cooking classes to screenings of films, Ponce City Market offers a little of everything to continue the night with your loved one. Check out this link for calendar of upcoming monthly events.
In the end, Ponce City Market is a trendy and vibrant spot to check out with your date. Whether it's eating, shopping, or participating in the monthly entrainment opportunities; Ponce City Market is sure to deliver a successful date night experience!
Connect Online with Ponce City Market: Website | Facebook | Instagram