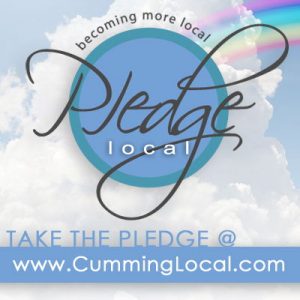 When I launched Cumming Local a little over a year ago, it was from a desire that I had for myself & for our family. I didn't see the point of driving into Roswell, much less downtown, when there were so many great shops & restaurants right here in Cumming GA & Forsyth County.  I wanted the money we spent on our purchases to actually stay in the county that we live & work in.  The county that our children go to school & play in.
I also had a strong desire to help small business owners – the ones that were trying hard and working hard to provide great services & programs to families just like mine living here.  I wanted the money from our purchases to help a small business owner provide for their personal family here in Forsyth County, not help provide another company jet for a large corporation across the US.  I wanted to help spotlight the local store that may not be open 24 hours, have every color or size of every item that you're looking for, but the ones that do provide personal, one-on-one attention.
Does that mean I'm against all large businesses in Forsyth?  Surprisingly, no.  I'm not.  Those large companies help employ a lot of residents & bring a lot of tax dollars to our county.  So to me, "shop local" definitely means support locally owned small businesses, but it also means if you're going to shop at a large corporation shop at one in Forsyth County!
Take the Pledge
After a year of being focused on "becoming more local", I've definitely made progress in my attempt & desire to support locally owned businesses; however, there's still plenty of improvements I can make.  There's still lots of locally owned businesses, restaurants, shops & services my family hasn't tried yet.  So I'm taking a pledge.  To do in better in 2012.  To support a new-to-me, small local business each month.  To give a small local business a try.
Will you take the pledge with me?
It doesn't involve a huge commitment or a lot of pressure.  It's just a pledge to try.  Give at least one new locally owned business in Cumming GA or Forsyth County a try.  Maybe it's a new restaurant, a new gym, a new service provider or store.
Need an incentive or motivation?
When you take the initial pledge & then renew your pledge or commitment each month, you'll be eligible for some special giveaways!  As the "Take the Pledge" initiative grows, we'll continue to add more to it.  I'm excited about where we can take this.
Take the Pledge Initial Giveaway:
With your initial pledge this month, you'll automatically receive an additional entry in our current giveaway to The Cumming Harvest – very local indeed!!  No additional effort on your part – just sign the pledge & you'll receive an automatic entry.
So … will you take the pledge?  And share with your friends & family in Forsyth County?