Planes Movie Review
I was super excited to be able to take my son, Finn to see Planes. He is a HUGE Cars fan. I had already marked the date Planes opened on our family calendar. So when I was offered two preview tickets to see the movie before it comes out – we jumped on that! I decided not to tell my almost 4 year old what we were doing until the movie started. I couldn't wait to see his face. And as I anticipated, he was so HAPPY!
The movie was great! Dusty quickly became my son's favorite character. He is a plane with a big heart that never gives up and always tries his best! The movie Planes is the story of Dusty, the crop duster who dreams big! He begins following his dream and racing in the skies but quickly learns he is afraid of heights. However, as the movie goes on he faces his fear and becomes all he ever dreamed of.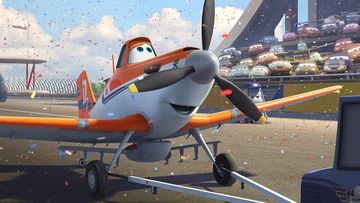 When I asked Finn what his favorite part was . . . he said that Dusty didn't give up when things were hard. I'd say that's pretty awesome coming from an almost 4 year old!
We would definitely recommend you taking your kids to see it. It was action packed and fun! I'd say girls and boys of all ages will love it! And from a mother perspective, I loved the morals being taught!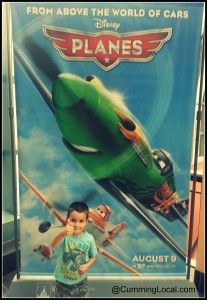 For another perspective, check out
Common Sense Media
.
More about Planes: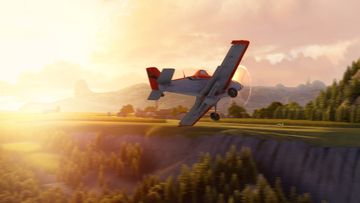 Planes is a 2013 American 3D computer-animated adventure sports comedy film produced by DisneyToon Studios and released by Walt Disney Pictures. It is a spin-off of Pixar's Cars franchise and the first film in the Planes trilogy.
Rated PG, 92 Minutes
Starring:  Dane Cook, Jon Cryer, Julia Louis-Dreyfus, Val Kilmer
See Planes:
Playing at both Forsyth County Movie Theatres
Click here for showtimes and listings at Carmike Cinemas / Movies 400
Click here for showtimes and listings at AMC Avenue Forsyth
Photo Courtesy of Disney

Disclosure:  I was provided with two complimentary tickets to a pre-screening of the Planes movie in order to facilitate this review.  However all thoughts & opinions are my own … or Finn's!