Parks in Forsyth County:
Fowler, Haw Creek, Caney Creek Preserve & Chattahooche Point

Did you know there are 20 parks in Forsyth County? I was totally shocked by that number. And most of the parks we decided to go see, we had never been to.
This past weekend me, my husband, and kids (4 yrs old and 2 yrs old) set out on an adventure through some Forsyth County Parks – starting our Park tour from the A to Z Summer Guide.  My kiddos were super excited to find out that we would be outside all day enjoying the pretty weather.
I used FindTheBestRoute.com to map out our directions. You simply plug all the addresses in and then the website maps out what order you are to go in. I had a timer, packed lunch, snacks, and plenty of water. We spent 45 minutes at each park. The after we left we talked about what we liked and didn't like.
If you want to make your own Park Tour, click here for a listing and description of the major Forsyth County Parks.  I also made a passport worksheet to allow us to write notes. Here's a link to the simple document I created – Playground Passport.
Below, we're sharing pictures & also a small pro/con list of each park.  Of course the pros & cons are from my perspective (Rachael) and in my opinion only.  Your list may look different!
Fowler Park
4110 Carolene Way
Cumming, GA 30040

Features: 4 baseball/softball fields, 7 rectangular fields, 12 stadium quality lighted tennis courts, 1 full and 4 half outdoor basketball courts, 1.5 mile walking trail, 4 small pavilions, 1 large pavilion, 2 Playgrounds, and a Dog park
Pros: the bathrooms are close by, large covered pavilion to eat near by, swings, two playgrounds
Cons: No shade, little and big playground are just far enough away from each other that it's hard to keep a close watch on your kiddos especially if they are little like mine. 

Haw Creek Park
2205 Echols Rd
Cumming, GA 30040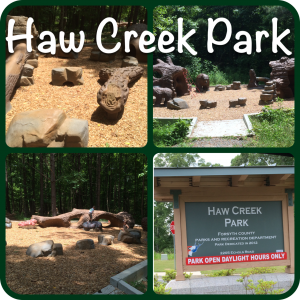 Features: 85 acres and includes approximately 3.3 miles of multi-use trails for foot travel and mountain bikes, a picnic pavilion, and a multi-pod playground with a woodlands theme.
Pros: Awesome looking playgrounds in the woods (shaded and cool), has a bike trail, and nice new covered pavilion near playground to eat at.
Cons: The bathroom was a long walk away from trails and/or playground.

Caney Creek Preserve Park
2755 Caney Rd
Cumming, GA 30028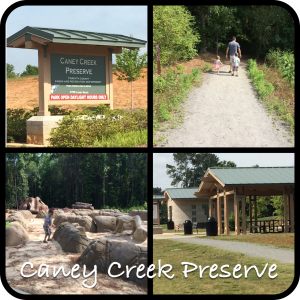 Features: 1.2 miles of walking trails, a dog park, two pavilions, natural amphitheater and a one-of-a-kind playground with an archeological dig site and water play area.
Pros: Great exploratory learning areas, very low key.  My kids loved playing with the sand area and rope climbing.
Cons: No shade over the playground area and it was a long walk to get to playground. Of course we found out after there are two entrances to this park. Go to the second entrance for a shorter walk to the playground.
Chattahoochee Pointe Park
5790 Chattahoochee Pointe Drive
Suwanee, GA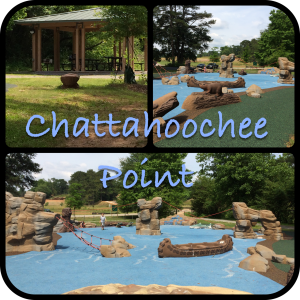 Features: a canoe launch, two picnic pavilions, over two miles of walking trails and a river-themed nature-inspired playground.
Pros: A river like playground to explore on, the trails were a lot of fun over the creek.
Cons: No shade over playground, bathroom wasn't close by, this park was hard to find.
Tips to Making a Park Tour Work:
1.  Pack a good cooler – preferably small enough it's easy to get in & out of the car each time, but large enough to hold everyone's water & at least one snack for each park.
2.  At each park, take time to sit & relax at the picnic tables and refuel a little with your water & snacks.
3.  Tell the kids in advance how many parks you're going to.  And make sure they know this means you're not going to stay at each park very long but you'll be going to lots of fun parks instead.
4.  Make sure you have a little first aid bag with you – more than one park, most likely means more than one boo-boo.
5.  If your little ones still nap, it's super easy to plan your trip around that.  We left our house at 9:00am and got home just in time for nap time. We hit 4 parks staying 45 minutes at each one. We had lunch at the 3rd park.
6.  Enjoy the fun!
For more fun ideas in Forsyth County, check out our other Forsyth County Park Tour from last year and be sure to check out our A to Z Summer Fun Guide.