Starting in January 2017 I changed to eating a Paleo style diet. And it has made a world of difference. If you don't know what that is, let me share with you. Basically it means no gluten, no grains, no dairy, no sugar.  I have made it my goal to make some recipes that meet all the Paleo requirements but are still delicious.
I'm very thankful to a good friend, Morgan, who has helped me by sharing recipes and ideas for meals. She has also shared with me some great websites and cookbooks to gain recipes from. Some of my favorites are Against All Grain, Nom Nom Paleo, and a local blogger – He Won't Know it's Paleo.
Over the last month and a half, I've gotten a little sick of eggs for breakfast. So today I decided to create another breakfast option. Pair these Paleo Chocolate Chip & Blueberry Muffins with some bacon or sausage and it's perfect! I hope you enjoy. To find other recipes I'm creating, click here.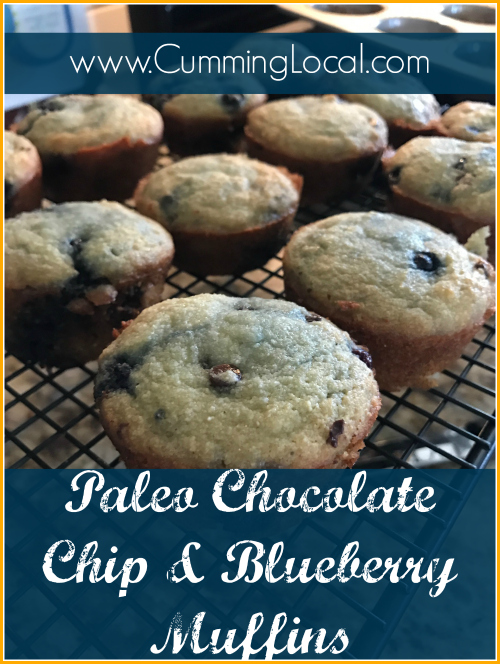 Paleo Chocolate Chip & Blueberry Muffins
Ingredients:

2 cups of almond flour
1/2 tsp of baking soda
Pinch of salt
4 Tbs. of honey
1 cup of coconut milk or almond milk
4 Tbs of coconut oil, melted
2 eggs
1 cup of Wyman's frozen blueberries, rinsed and dried
1 tsp. vanilla
1/2 cup of Enjoy Life chocolate chips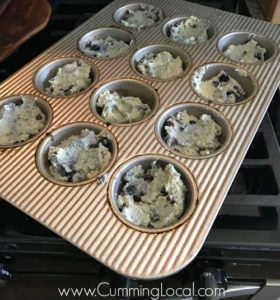 Instructions:
Preheat the oven to 350 degrees and spray muffins tins or line with baking cups.
Mix together the dry ingredients – almond flour, baking soda, and salt.
In another bowl, mix together the wet ingredients – honey, milk, coconut oil, eggs, and vanilla.
Pour the wet ingredients into the dry ingredients and mix gently. Be sure not to over mix.
The last step is to gently fold in the blueberries and chocolate chips.
Spoon the batter into the muffin tin. And bake until a toothpick comes out clean from being inserted into the center. My batch took around 20 minutes.
{This recipe makes 12 muffins. They can be stored in the refrigerator in an airtight container.}