Next Generation Focus: Power to Dream
Four afternoons a week, plus Saturdays, the halls of Grace Chapel Church fill with noise and laughter. Kindergarten-age through middle school kids come through the door with their backpacks on their back and smiles on their faces.
"I got a 100 on my test today!" says one beaming little boy, and a teenager gives him a high five. This is Next Generation Focus—a nonprofit that "equips the next generation of leaders by providing educational and financial resources, as well as mentoring support," and that could well be considered the hidden gem of Forsyth County.
"As a PTA volunteer and teacher's helper at my daughter's school, I saw first-hand how many children were struggling with literacy under teachers who were too stretched to help," says Amy Sol, the founder of Next Generation Focus. "When a teacher told me that some of the kids never held a pair of scissors or a crayon because their parents could not afford a preschool program, my heart broke."
For Sol, the turning point came as she listened to her pastor's sermon one Sunday. "He challenged the congregation to attempt something so great that it was doomed to fail unless God was in it," she says. The next thing she knew, Next Generation Focus had been born. NGF has two main programs: SmarterMe® Saturday, and SmarterMe® Afterschool Academy.
"The goal of Next Generation Focus's SmarterMe® Program is to improve academic achievement of at-risk students in grades K-8 in the core academic content areas of reading/language arts and mathematics," Sol says. She adds that both Saturdays and weekdays focus on reinforcing reading and math skills, and that both programs charge a small registration fee to families involved in order to maintain commitment.
Next Generation Focus is for any child who needs a little help in school. "Though many of our students come from low-income families, students from every walk of life are welcome," says Sol. "The cost is just the $65 registration fee, but low cost does not mean low quality—the quality of instruction is high because certified teachers who are familiar with the school's rubric develop the curriculum."
In addition to the certified teachers, Sol also highlights NGF's high school volunteers.
"We intentionally recruit teen volunteers to tutor children in grades K-8, thereby allowing youth to serve youth," Sol explains. "It's a great way to get service hours for Beta Club, but more importantly it's a fantastic opportunity to make a real contribution to society." She adds that the benefits are mutual: "Both teen tutors and their students benefit tremendously from their relationships with each other. Having great role models is important for young children, and for a teen tutor, the impact of seeing firsthand how they are improving a child's life is immeasurable."
As a teen tutor myself, I know firsthand what she means. "I had lots of friends in my old country," one little boy tells me one day in his heavily accented English. "We had a lot of fun playing. They had the same language as me; I don't know how to say their names in English. I had to come to the USA when I was six. It took, like, ten years to get here, and I miss my friends." He looks downcast. But then he perks up. "I have lots of friends in the USA already, too!" I'm left marveling at his resilience. Another little girl says, "I can't decide if I want to be a scientist or a teacher when I grow up."
"Who says you can't be both?" I suggest. She beams. By showing kids God's love, by offering them teen role models, by helping kids succeed in school, NGF offers its kids something else—something that's very important. It gives them the power to dream.
Next Generation Focus is always in search of more teen tutors and more certified teachers, and they always welcome more kids. If your child needs help, especially during the crucial early grades of K-3, please contact us at info@nextgenerationfocus.org.
You can read more about NGF and its programs at www.nextgenerationfocus.org.

---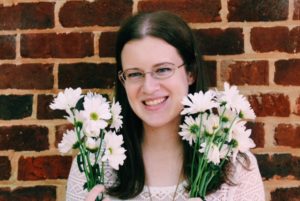 Hailey Hudson is a young author, blogger, and freelance writer who happily calls Cumming home. When she's not pursuing her careers in writing or children's ministry, she's playing fastpitch softball, obsessing over Harry Potter, or snuggling with her beagle puppy, Sophie. Learn more by following her blog.