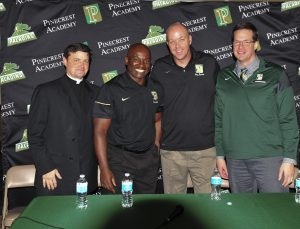 Former Atlanta Falcon Terance Mathis Named Varsity Football Head Coach at Pinecrest Academy
Pinecrest Academy Athletic Director, Chris Kane, officially announced on Friday, May 5, 2017, at a press conference, held at the school, that former NFL receiver Terance Mathis has been named as Pinecrest's new Varsity Football Head Coach. The private PreK3-12 Catholic school is located in Cumming, GA, in South Forsyth County. The Paladins were the 2015 Class A Region 6 champions, and during the 2016 season, the team placed 13 players on the All Region team, six on the All County team, and one on the All State team. The Paladins finished 11th in Class A Private in the Final Composite Rankings in 2016. Mathis replaces Todd Winter, who recently was named as Head Coach at Holy Innocents Episcopal School in Atlanta.
Mathis was a standout quarterback at Redan High School in DeKalb County, Georgia, where he took the team to the playoffs in his junior year. He went on to play at the University of New Mexico, where he caught 263 passes for 4,254 yards and 36 touchdowns. He was named an All-American in the 1989 season.
Mathis spent most of his 1990 to 2002 NFL career as a receiver for the Atlanta Falcons. He was instrumental in the Falcons' victory over the Vikings in the 1998 NFC Championship Game, catching two touchdown passes, including a game tying score that sent the contest into overtime. He was named All-Pro for the 1994 season. During his tenure with the Falcons, Mathis caught 573 passes for 7,349 yards and 57 touchdowns, second only to Roddy White in all three of those categories.
Since leaving the NFL at the end of the 2002 season, Mathis has worked in marketing for a NASCAR race team and most recently as a personal trainer for athletes of all levels of experience.
Mathis has coached for Savannah State University, Nike Football Camps, Gridiron King 7-on-7 National Tournaments, Shrine Bowl Games (2008 and 2016), and Lambert High School.
"We are really excited to have someone of Terance's caliber join us and lead our football program," said Chris Kane, Pinecrest Academy Director of Athletics. "His football pedigree speaks for itself. But his humility and his philosophy is something our boys and community will benefit from greatly!"
"It's truly a blessing to be a part of the Pinecrest family," commented Terance Mathis. "I'm excited to get started with continuing the growth of the football program. I'm here to say that God is still in the blessing business!"
Mathis lives in Suwanee, GA, with his wife, Arnedia, and their children, daughter Terae and son Terance, Jr.